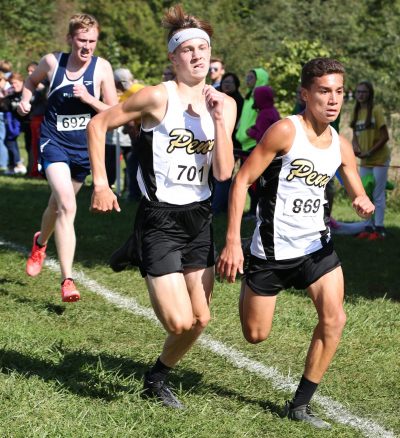 Penn High School's cross country and track runner Mariano Retzloff has been one of Penn's top runners since his freshman year, and it's his relentless pursuit of excellence that has him on the fast track to success.
A hot summer day, Mariano Retzloff has run through it. Pouring rain, Mariano Retzloff has run through it. Below freezing temperatures, Mariano Retzloff has run through it. Retzloff runs around 40 miles a week and runs in any condition.
Retzloff started running at the age of six, but more to just stay in shape or just for fun to go on runs with his mom.
"I didn't really get into running competitively until the start of middle school in Cross Country as far as racing and everything," Retzloff said.
Retzloff's love for running and his passion for doing the best he can is evident in his words.
" It's just all about chasing a new PR every week and trying to perform the best as I can with my team every meet," Retzloff said.
Retzloff is the top runner at Penn for Cross Country and ran varsity track as a freshman and plans on doing the same this year.
When talking about his biggest motivator, Retzloff said " Running multiple miles every day and having hard workouts isn't any fun, but I do all of that hard work so I can race fast and win with my teammates. That's the fun part."
Penn Boys Cross Country Head Coach Tom Miller said that Retzloff has a great work ethic.
"Mariano is fully committed to quality work on a yearly basis," Miller said. "His off-season work is high quality work, which puts him in a better position at the beginning of each season to accomplish his personal goals."
As a freshman, Retzloff won sectionals and regionals in the 3200-meter race in track. He also broke the freshman record for cross country and the 3,200 in track.
Retzloff is already off to a hot start this year, winning the Freshman/Sophomore race at the N.I.C. Stomp and setting the fastest time at the Penn Invite at Elm Road ever by any Penn runner. He placed first in the Freshmen/Sophomore race at the prestigious New Prairie Invitational.
"Mariano is a competitor," Miller said.  "He has set high goals for himself and has a strong desire to succeed. His work ethic and his desire to accomplish his goals have led Mariano to be one of the top runners for Penn."
Retzloff hopes to run after high school and continues to strive for a DI scholarship to run cross country and track at the next level.
When talking to Retzloff he often mentioned his favorite part about running, he said "It's kinda hard to choose just one favorite thing about running, but my top two favorite things are definitely racing and just being with my friends."
Retzloff also said, "Racing and winning with the team is a lot of fun to do, but also a huge reason why I run is that it's a lot of fun to go on runs with my friends or just hang out with them after a race or something. Running with such a close group of friends definitely makes running everyday way more fun/easy and I don't know what I'd do without them."
As Retzloff continues to train and compete to make new PR's and set new records, he also enjoys the time he has to run with his friends and said, "That's what it's all about."