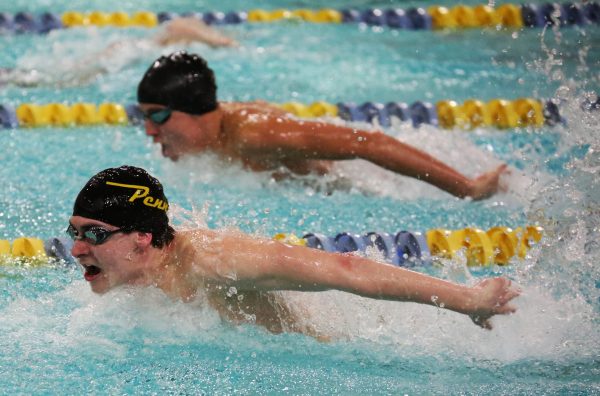 Penn's Sophomore-dominated Swim Team placed eighth in the Indiana High School Athletic Association State Championships on Saturday, Feb. 23, 2019, at the Indiana University Natatorium in Indianapolis.
Carmel won the State title with 353.5 points. Penn scored 95 points for its eighth-place finish. Of the six swimmers who scored points for Penn at State, four are Sophomores and one is a Junior.
Penn's 200-yard Medley Relay, featuring Sophomores Aaron Dies, Joel Cummins, Connor Craig, and Senior Evan Dies, placed fourth in the State in 1:33.22.
Junior Brock Zuyderwyk and Sophomores Kyle Brothers, Connor Craig and Joel Cummins placed fifth in the State in the 200-yard Freestyle Relay in 1:25.54.
Sophomore Aaron Dies placed seventh in the State in the 100-yard backstroke in 50.22.
Brock Zuyderwyk, Kyle Brothers, Aaron Dies and Evan Dies placed 12th in the State in the 400-yard Freestyle Relay in 3:11.59.
Brock Zuyderwyk placed 13th in the 50-yard Freestyle in 21.34.
Brock Zuyderwyk also placed 13th in the 100-yard Freestyle in 47.05.