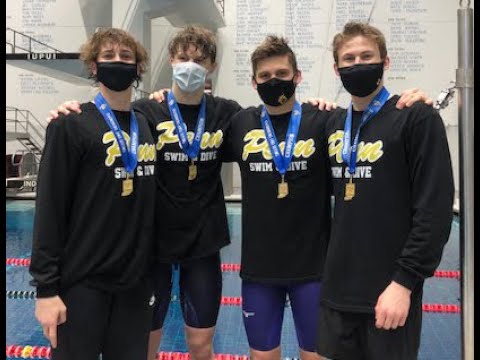 Click the video (above) for Penn's State Championship race.
Penn's 200 Freestyle Relay Team won a state championship – and made waves nationally on Saturday, Feb. 27, 2021, at the IUPUI Natatorium in Indianapolis.
Joe Radde, Aaron Dies, Joel Cummins and Connor Craig blasted to a time of 1:21.29 in winning state. That time is currently the No. 1 time in the nation this season for a high school team according to National Federation of High School records, and is the No. 6 best time all-time.
Penn finished fifth in the state as a team, and Kingsmen head coach Jess Preston was named the Indiana Coach of the Year.
The 400 Freestyle Relay Team of Joel Cummins, Connor Craig, Matthew Howell, Kyle Brothers placed seventh in the state in 3:07.98.
Joe Radde placed 10th in the state in the 100 butterfly in 49.57.
Tomas Salas placed 11th in the state in Diving.
Aaron Dies placed third in the state in the 50 Freestyle in 20.25, setting a school record in prelims (20.23). Joel Cummins placed 13th in the event.
Penn's 200 Medley Relay Team of Aaron Dies, Connor Craig, Joe Radde Joel Cummins placed third in the state in a school-record time of 1:30:48.