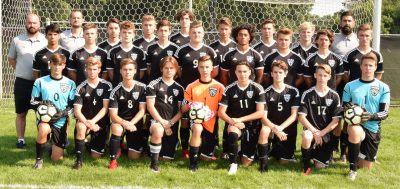 Penn High School's Boys Soccer Team fought back from a 3-1 deficit to tie the score, but fell short in a 4-3 decision against host Homestead in the 2018 season opener on Saturday, Aug. 11, 2018.
Dorian Clayton, Ryan Hague and Peter Smith scored goals for Penn.
Alex Karamitsos and Max Bender contributed assists.
"Our Varsity boys showed the exact personality traits needed to be champions: resolve, determination, support for one another, and courage," Penn Head Coach Kyle Zaber stated. "I'm very proud of their efforts and I know we'll be ready to keep learning and improving for our next game!"
Penn's Varsity hosts Northridge on Tuesday, Aug. 14, at 6:45 p.m.
Penn's JV Black scored a 4-0 victory against Homestead.
"Our JV boys. . . WOW!!" Zaber stated. "The pace with which they moved the ball and attacked as a group made them very difficult to defend. The 4-0 score line was well earned and deserved!"
Homestead defeated the Penn JV Gold Team 1-0.
"Great stuff from all three teams!" Zaber stated about Saturday's efforts against Homestead. "Our JV Gold team demonstrated very good possession on the ball with quick and creative passing, and great individual efforts to beat their 1v1 chances! Great stuff to see!"