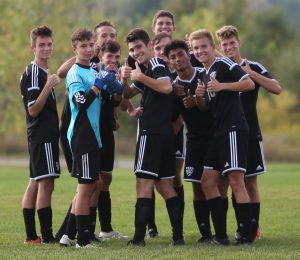 By GARRETT WENZEL
Penn's Kingsmen came through in the clutch to win a critical Northern Indiana Conference Boys Soccer showdown, beating the archrival South Bend St. Joseph Indians, 1-1 (5-4) in a shootout on Thursday, Sept. 21.
Micah Craig drilled the Kingsmen's only regulation goal on a penalty kick.
Micah Craig, Brandon Stahl, Daniel Gries, Jack Demske and Sammy Atkins all scored in the shootout.
Evan Mercurio made a sensational save to seal the deal for the Kingsmen.
The Kingsmen are now 12-1-2 on the year, 8-1 in NIC play.