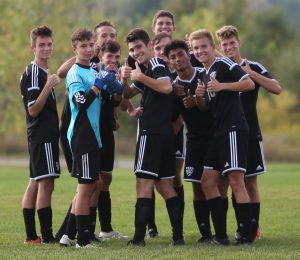 Sammy Atkins scored two goals to lead the Penn Kingsmen to an 8-0 victory against the host Bremen Lions on Tuesday, Sept. 19.
Dorian Clayton, Alex Karamitsos, Evan Pica, Micah Craig, Aron Janko, and Daniel Gries scored one goal each.
Aron Janko delivered three assists. Dorian Clayton, Micah Craig, Spencer Neal and Ryan Hague each had one assist each.
The Kingsmen move to 11-1 on the year, 7-1 in NIC play.