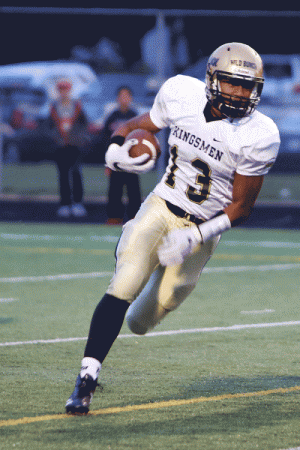 By CHINONSO EMENIM
It was a difficult problem, sure. But it was almost complete, there was just one problem. He pointed to the spot on the page where the mistake had been made. "No, you have to add 9 to both sides to get rid of that negative nine," he said, leaning over his friend's algebra assignment. His friend nodded gratefully and corrected the error, glad that the homework was finally completed. His helper leaned back in his chair and looked up at the ceiling, stretching. He had gotten up early this morning and it would be a while before he could go to sleep.
A couple hours later, his eyes looked skyward again, but this time he wasn't looking at the ceiling of a library. Instead, he was tracking a soaring football framed against the evening sky as it returned to earth.
Though he could hear footsteps pounding against the turf as the opponents swarmed in for the tackle, he resisted the urge to look away from the ball. He had barely caught the ball before one of them dived for his legs. Spinning quickly he maintained his balance, but more tacklers were on the way. Glancing left, he saw his teammate block one would-be tackler, but as he sprinted past his blocker with the ball, two more were closing in quickly. He had to make a decision, and fast, but there was nowhere to go. Time was running out.
With no other choice, he stopped on a dime and watched as the two defenders went flying by, unable to stop their momentum. A cheer went up from the crowd as he raced down the left sideline and into the end zone. Penn High School's Paul Moala had just extended the Kingsmen's lead.
Moala, who recently commited to Notre Dame, is used to long days, and making an impact. Most high schoolers would consider waking up at 6 in the morning on a regular basis to be an insane practice, but Moala was up almost a full hour before that, getting ready for a day that included a game against non-conference rival St. Mary's Prep and another day at school. Neither of these was the reason that he was up almost two hours before the sun would peek across the horizon, though. The Bible class at his church was meeting early this morning, and he couldn't be late.
For much of his life, Moala has been devoted to those two foundations of American society: faith and football. In his experience, he has noticed some overlap between the two. "God has blessed me with the talents and the opportunity to play football," Moala reflected. "And that's what inspires me to work hard and get better."
Along with his faith, Moala's strong family ties have played an important role in his success. "My main purpose for playing is my family, because they've helped me with a lot," said Moala.
At a young age, his older brother Inoke, who now plays defensive end for Indiana State University, introduced him to the game of football, and he's been playing ever since.
"Inoke shaped me into the player I am today," Moala said of his older brother. "He was my first workout partner, and he was always challenging me to do better, whether it was lifting a little more weight, running a little faster or working a little harder."
The hard work has paid off as Moala has become one of the most dynamic players in the Northern Indiana Conference. From the safety position, he racked up 63 tackles to go along with seven interceptions last year, four of which he returned for touchdowns.
This year, coach Cory Yeoman has really showcased his versatility by using him in all phases of the game. Already this year, Moala has caught a touchdown pass, blocked a field goal, returned a punt and a kickoff for a touchdown, and intercepted a pass from the safety position. He added a 98-yard kickoff return for a touchdown against South Bend St. Joseph.
"One of the most impressive things about him besides his work ethic is…he's one of the most humble people you'll ever meet," said Yeoman of his all-around senior standout. "He had a great role model in his older brother Inoke, and you can see how he takes after him."
With all of his recent success, Moala has drawn the attention of many colleges, including offers from Notre Dame and Vanderbilt. Not surprisingly, Moala's approach to the recruiting process is centered on his family.
"I'm really looking for a college that best fits my family," said Moala. "I really want my family to be okay with where I go for college, a place where they can trust me to go, and a place where I can perform well."
Though he is still undecided about his college choice, one thing is certain: Moala–the tutor who helps his friends with math homework, the early riser who gets up before the sun to fit Bible class into his busy schedule, and the promising recruit who makes plays all over the field–has given his family plenty to be proud of.
: