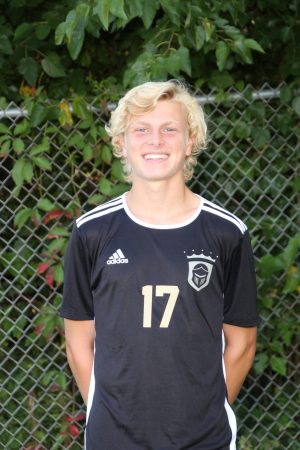 Avery Richardson took a different path from the Soccer pitch as a Junior. He was running the narrow and winding trails of a Cross Country course, grinding out miles through a woods, or up an imposing hill.
Richardson played Soccer for Penn as a Freshman and Sophomore, but thought that running Cross Country would help improve his Track career.
Now, after all of those long runs in Cross Country in 2018, Richardson has Penn Soccer poised to make a long run in the 2019 State Tournament.
For his Senior year, Richardson decided to return to Soccer, and he's made an immediate impact by earning a role in the starting line-up as a right back.
Richardson's talent for being a student of the game and being able to learn quickly enabled him to play a key role for the Kingsmen, who won a share of the Northern Indiana Conference North Division Championship this season.
Many of Richardson's teammates have as much as six years of Soccer experience on him.
"I played football in the seventh grade," Richardson said. "I decided I wasn't good at football, and I switched to soccer in the eighth grade. I played one season of (recreational) league soccer, and I liked it. My freshman year was the first year I played on a team."
Richardson put in a lot of time learning the sport.
"It was hard to learn to play with my feet, because I always played sports with my hands," Richardson said. "I think the reason I picked it up fast was because I had such a passion for soccer. I started to learn about soccer more and started following teams and players."
Richardson's passion for Soccer played out in his backyard.
"I went out in my backyard every day and tried to make up for the past six years when I didn't play Soccer, and everybody else did" Richardson said. "I was rough my Freshman year. I almost got cut.
"I set up cones in the backyard and work out," Richardson said. "I looked up drills on Youtube and figured out the best way to play. I tried to enhance my soccer IQ and my skills. I watched a lot of videos of Zlatan Ibrahimovic (LA Galaxy), who used to play for Barcelona and in the Italian League."
Encouraged by his friends on the Soccer Team, Jacob Eshowsky and Max Bender, Richardson honed his skills and played Soccer as a Freshman and a Sophomore. Although he ran Cross Country as a Junior, Eshowsky and Bender continued to be encouraging. After Track season ended last June, Eshowsky and Bender talked to Richardson about returning to Soccer as a Senior. The move paid off with a Championship season for Penn.
"Avery works on and off the field and doesn't give up," Kingsmen captain Max Bender said.
Richardson is savoring his Senior season in Soccer.
"It's definitely a blessing to play with all of my best friends, even though I left the team," Richardson said. "It's an honor that coach Zaber picked me to play outside back."