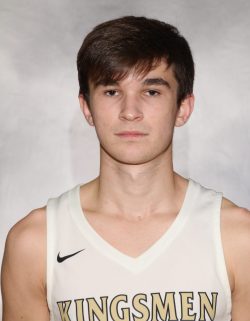 Carter Hickey is a two-year starter for the Penn High School Boys Basketball Team. Hickey helped lead the Kingsmen to the Final Four last season.
When did you start playing basketball?: I started when I was five and have played every year since.
Have you modeled your game after anyone specific?: No, but my favorite player growing up was Kobe.
Is there a certain team that you have enjoyed playing for most?: I like both summer and school basketball because they both have a positive benefit for me. 
What are your thoughts on playing college basketball?: I considered playing in college but the cons outweighed the pros and I really want to attend the Kelley School of Business.
What is your favorite part of playing on this senior team?: My favorite part of this season is spending time with my teammates, and I have a lot of respect for all of my teammates because they put in hard work.
What is your favorite thing about coach Rhodes?: He is a Hall-of-Fame coach and he has trust in his players and his knowledge of basketball is unmatched.
What has been your favorite game of the season?: The Mishawaka game, because we beat a rival school in front of a big home crowd.
As a senior what advice do you have for younger players?: To have good confidence in yourself and to enjoy it, because it goes by fast.
Favorite college or pro team?: My favorite college team is Duke and my favorite pro team is the Lakers.
Pre-game music?: I like to listen to rap music, people like Polo G and Young Thug. One of my favorite songs is "Lose Yourself", by Eminem.
Career path?: Something business-related. I will be attending the Kelley School of Business next year, so that is a start. 
Family athletic advantages" My dad played basketball in high school so he got my to like the sport at a young age. Everyone in my family plays a sport, so we all support each other. 
Favorite restaurant? A couple of my favorites are Wings and Chick-Fil-A.
Favorite activities with friends? Getting together with the boys to watch a big game or event.