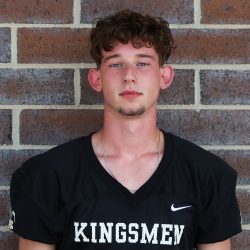 Nate Hurbough is a Senior who played Football for the Penn Kingsmen and will run track for the Kingsmen. He moved to Indiana from Texas after his Junior season at Hurst Bell High School.
Why do you compete in track?: My mom ran when she was in high school and my dad coached. 
What events do you participate in?: Long jump, triple jump, 200, 400.
What track athletes do you admire?: Michael Norman, Michael Johnson, Mike Rogers, Trevon Bromel, Noah Lyles. 
What goals do you have for this season?: Three school records and podium at state.
Plans after high school?: Running in college. 
What do you enjoy most about track?: It's an individual sport, so you're only as good as you make yourself be. 
Where's the coolest place you have run at?: The Olympic training facility in Fort Wayne. 
What is your favorite event?: The 400. 
Toughest event?: 4×4 relay for sure. 
Hardest competitor?: Dominik Yancy from UTA.