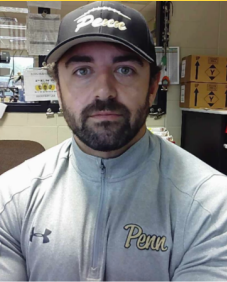 By JACOB BALIS
Penn High School and Coach Matt Cates have been nationally recognized for their outstanding strength and conditioning program.  The NHSSCA (National High School Strength Coaches Association) Program of Excellence award has only been given to four high schools across the country, with Penn being the first to earn the achievement.  There are a variety of qualifications needed in order to be considered for the award, including management, goals, teaching, safety, and development.
This is not the first time Cates has been praised for his excellence.  He has been honored multiple times across the state of Indiana for his thriving strength program at the high school level, which only seems to improve in notability every year.
Cates was even recently named the state director of the NHSSCA.  Despite his impressive achievements, one thing that you will notice immediately about Coach Matt Cates is his humility.
"I think this award just shows the accomplishments of our student-athletes and coaches on their hard work and dedication of strength and conditioning," Cates said.
Cates graduated from Portage High School and then would continue his journey to Manchester University.  Coaching is not a new concept for him as he has coached at an array of schools, including his alma mater Portage, Michigan City, Martinsville, and is now currently at Penn High School.  
For Cates, it's never about himself. 
"To me, it's way more about what the athletes are doing, the leadership that they have … the work ethic that they have … and the attention to detail that they have," Cates said about the award.
Obviously, receiving this award is a major accomplishment for the school and all of the athletic programs at Penn.  Cates claims that this award is a "sign that we are on the right path."  That's pretty great news if you're an athlete at Penn. 
However, this award does not leave Coach Matt Cates satisfied.
"I don't think you can ever settle and be content with winning one thing," Cates said. "It's a great accomplishment but you still have to continue to work, get better, and keep driving."
It's safe to say Cates is an ultimately motivated person, someone anyone would feel great about running their strength program.
For young strength coaches across the country looking to achieve this success standard, Cates says to, "Never stop learning, stay committed to daily excellence and habits, and most importantly, remember to keep it simple. Find what everybody is doing the same.  Those things are the diamonds.  Stay consistent with the basics because you're dealing with high school athletes and they have to be able to understand it and do it on a daily basis."
Penn Head Football Coach Cory Yeoman is totally on board with the Head Strength Coach.
"Coach Cates has brought sports into the weight room that weren't lifting at all or doing very little workouts as a group," Yeoman said. "I think that is a huge thing."  
Cates and his staff have crucially benefited Penn athletics as a whole by including these sports in such activities.  Lots of success can be attributed to the Strength Program and all that it stands for. 
"I think a lot of sports that weren't using any strength training, agility, or speed training have really climbed greatly by adding that into their pot," Yeoman stated.
The Penn Strength Program is massive for athletics at the high school and receiving the NHSSCA Program of excellence award appears to just mark the beginning of a long line of success to come.