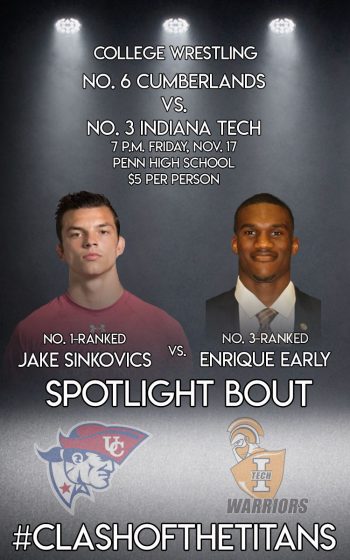 By JEFFREY HARPER
Penn High School will be hosting a Collegiate Wrestling meet between two NAIA powerhouses, No. 3 Indiana Tech and No. 6 University of Cumberlands.
The match is scheduled to start at 7 p.m. on Friday, Nov. 17, at Penn High School's Main Arena (Enter at Door D).
Tickets are $5 a person. Doors open at 6 p.m.
This meet is Nov. 17th at 7:00, doors open at 6:00 pm
Former Penn star Austin Slates wrestles for Cumberlands, and another ex-Kingsmen wrestler, Alex Gregory, is on the Indiana Tech coaching staff.
Former area athletes who are on the Cumberlands and Indiana Tech rosters include Tristan Macri (Mishawaka), Jake Sinkovics (Mishawaka), Tyler Moser (Bremen), D'Angelo Scott (Washington), and Chase Hack (Riley).
"This is a great NAIA showdown, the best of the best," Kingsmen coach Brad Harper said. "There will be a lot of top-ranked wrestlers facing off against each other. The spotlight match is Jake Sinkovics, who is ranked No. 1 in NAIA, taking on Enrique Early, who is No. 3. It's a great night for wrestling in our area."