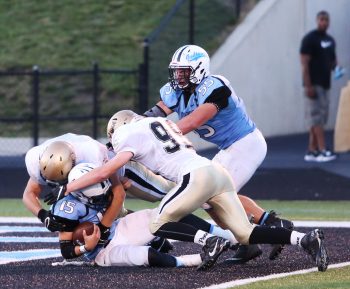 By BEN RUSHEMEZA
Whether Rockne Hurley is in a classroom, on the football field, or on a wrestling mat, the objective is always the same — excellence.
Hurley has made an impact as a student and an athlete. The 6-foot-2, 190-pound Junior is a major reason the Kingsmen Football Team has advanced to the State Championship Game. He's also a three-year starter in wrestling, and is an exceptional student. Hurley is also one of two Juniors on the Student-Athlete Leadership Council at Penn.
Being a two-sport athlete and a top student can be difficult, but Hurley manages to excel in Football, Wrestling and school.
"I always make sure school is my top priority," Hurley said. "No matter how hard of a practice I have, I always have to get my work done at home. I have to be very proactive about my time management and taking advantage of the all time I have to finish assignments.
"It's all a mentality, really," Hurley said. "If I tell myself that I can do something, I'll do it, whether it be in sports or academics."
Hurley said that the skills he develops in Football, Wrestling, and as a student crossover into the other areas.
"There's a certain physical and mental toughness that you have to have in football, and it carries over well into wrestling," Rockne said. "As both a wrestler and a defensive lineman, you have to be able to physically battle with another person for the entirety of a match with 100 percent effort at all times. You also have to know your opponent–their game plan, tendencies, abilities, and more–before game time so that you can have the upper hand."
Hurley's work ethic is a key factor in his success.
"My body never gets a break," Hurley said. "I always have to be working out and practicing year-round. It's hard, but it's the only way to be the best I can be."
"I challenge myself because it's the only way I can get better," Hurley added. "This applies to all things in life. If you stay in your comfort zone, you'll never be able to reach your goals. So I have to challenge myself in order to achieve everything I want to achieve."
Rockne pushes himself to the best of his ability, and for that his teammates respect him for it.