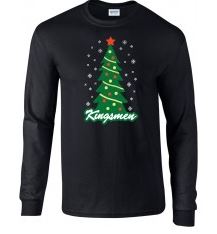 Combine school spirit and the holiday spirit with a Kingsmen holiday shirt.
The Penn Boosters are selling a holiday shirt. Any student who purchases the shirt will be able to get into the basketball games on Dec. 16, Dec. 17, and Dec. 21 for free, if they are wearing the shirt. Short sleeve shirts are $15 and long sleeve shirts are $20. They can be bought at the following link: https://www.gottogettees.com/index.php?route=product/category&path=146
They are for sale through next Tuesday, Nov. 23. The shirts will then be available for pickup in the Athletic Office beginning Dec. 9. Help support the boosters and purchase one today!
Thursday, Dec. 16, Penn Girls Basketball vs. Bremen (7:30 p.m.)
Friday, Dec. 17, Penn Boys Basketball vs. Bremen (7:30 p.m.)
Tuesday, Dec. 21, Penn Girls Basketball vs. Northridge (7:30 p.m.)