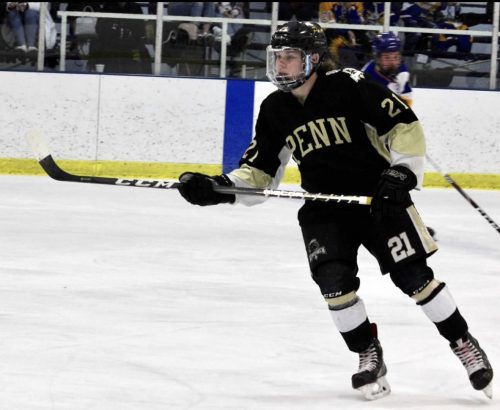 Riley Planey is a Junior on the Kingsmen Hockey Team. He has emerged as one of the team's leading scorers this season. The Kingsmen will play in the Nationals in Dallas starting on March 26.
What were your goals at the beginning of the season?: My goals at the beginning of the season, were to win a state championship not only for our school but for our seniors who may never play hockey again.
Now that you are towards the end of the season how have you prepared yourself to accomplish those goals?: I have prepared myself for the goal I set by making sure I go into every practice and every game focused and ready to go.
What are you looking forward to next season?: For next season, I'm looking forward to being a leader on the team and hopefully helping the team grow and achieve great things.
What drives you?: What has pushed me to get better throughout the years would be the opportunities that I have been given. With playing hockey after high school, whether it be college or juniors, that's what pushes me to get better.
Who is your must-follow on social media?: The NHL.
What is one of your superstitions?: I juggle a soccer ball before a game.
Favorite NHL team?: New York Islanders.
Pre-game music?: I listen to Da Baby.
Something on your Bucket List?: I want to go to Canada.
What's your hashtag?: #ilovemymom