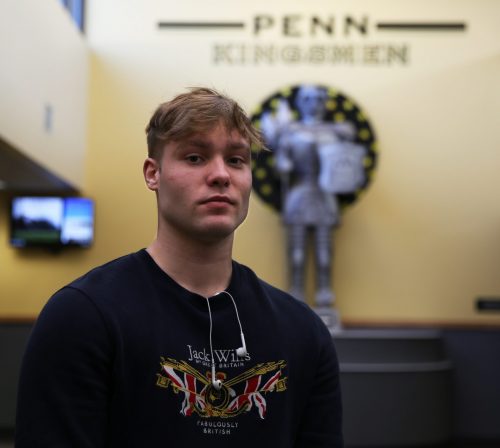 Editor's note: Dominic House is a student at the Cokethorpe School in Oxford, England, who is attending Penn High School as an exchange student. He will play rugby for the Penn Kingsmen Rugby Team.
By Dominic Marcus House
My American Bucket List
If you know me, you'll know I am a keen traveler. Live by the compass, not the clock, some may recite. To this date, I have been fortunate enough to have visited 23 countries. I should also add that I have also been to seven U.S. states.
I am a firm believer that traveling to new places and immersing yourself into new cultures is the best form of education. Travelling across Europe (Paris, Amsterdam, Berlin, Prague, Budapest, Zagreb) by train with seven of my close mates was the most liberating time I've ever had. At each European stop, we all had a small bucket list of places or activities such as to visit the Eiffel Tower or go to the outdoor thermal spas in Budapest.
Naturally, I made a small list before coming to Indiana …
Shooting Range: As I am an aspiring Royal Marines Commando, I wanted to take a shot at shooting at a gun range. I was quick to tick this off the list and we went in the second week of my arrival. As a Brit, it was great fun, as shooting pistols, rifles or carbines in the U.K. cannot be done recreationally.
High School Prom: We have prom in England, but It's not taken as seriously in my eyes, nor does it look any more exciting. This could be down to the fact that we already dress in similar attire every day regarding suits and ties for uniform, or probably because attendance at my prom was no more than 80 students, compared to well over 500 at Penn.
Prom dates are also a new thing, which aren't prominent in England. From what I've seen in photos and videos, there is a lengthy and thorough process of asking your prom date to prom. Some of the rugby lads have come up with some rather adventurous proposals, such as having five lads spray paint the word 'PROM?' on their bare skin.
I helped my friend, who I won't embarrass by mentioning, transport an excessively large teddy bear, bigger than his actual date, into a basketball game whilst he held a sign asking her to prom. Risky indeed. Don't know what the bear had to do with anything but it thankfully did the trick. Nice one A.J., happy to be of service.
Rodeo: Nothing more American than going to watch a man with is a cowboy hat get on the back of a ticked-off bull. Better than the Spanish version of bull sports, I'd argue.
Eating Challenge: Not the most well-known bucket list item to come to one's head, but I saw this pop up when I searched 'the most American things to do in America. I'm a big fan of Adam Richman on Man vs. Food, and I would often convince myself that I could easily do it. What better place to devour a couple of cheese burgers topped up with rashers upon rashers of smoked bacon on glazed doughnuts as buns with sides of curly flies and crispy onion rings? I'd name it 'diabetes on a plate' or the 'heart attack burger.'
Chicago: The third biggest city in the U.S. behind New York and Los Angeles. It would without a doubt be a trip worth doing. Adding to that, it would be a cool experience to watch the Chicago Bulls do their thing, but it's basketball, so I'm not bothered if we skip.
Also on the list: There are, of course, other things I would like to do like visit Salt Lake City, Utah, or watch an NFL game, but these are the most exciting things on the list for me.
Of course I will do all this whilst wearing a leather cowboy hat that I have yet to purchase. Cowboy boots would be a little too keen but when one comes to the USA, they must embrace the culture, no?