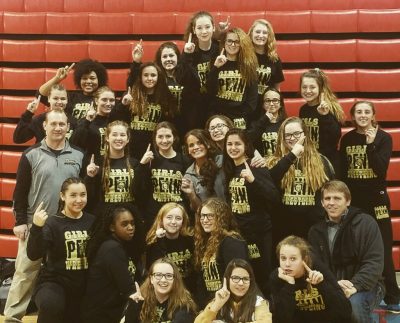 Penn High's Girls Wrestling Team repeated as the Indiana High School Girls Wrestling State Championship in the second season for the event, outdistancing the state finals field at Lawrence North High School on Friday, Jan. 19.
Penn placed first with 193 points to claim the 2018 State Crown. Hamilton Heights placed second with 64 points. Lafayette Jefferson was third with 59 points.
Penn boasted four individual state champions — Jaden Johnson (88), Madison Burke (152), Aiesha Helepa (170) and Andelisia Henry (220).
Penn results
88: Jaden Johnson, 1st.
106: Eryn Benak, 5th.
126: Anjali Pant, 3rd.
132: Olivia Nixon, 8th.
138: Grace Selis, 4th; Emily Spitaels, 7th; Karmyn Pollock, 8th.
145: Emma Ringer, 5th; Autumn Hale, 6th; Ashley Benak, 7th
152: Madison Burke, 1st.
160: Amanda Feder, 2nd.
170: Aiesha Helepa, 1st
182: Sadie Kunze, 7th
195: Katie Selis, 4th.
220: Andelisia Henry, 1st