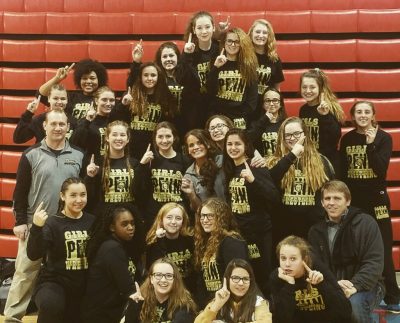 Defending State Champion Penn won the Indiana High School Girls Wrestling North Regional Championship on Friday, Jan. 5.
The Kingsmen boasted five individual Regional Champions – Madison Burke, Mikayla Ringer, Jaden Johnson, Aiesha Helepa and Andelisia Henry.
Penn finished the meet with 154 points. The Top 5 included: 1. Penn 154; 2. Hamilton Heights 61; 3. Lafayette Jefferson 48; 4. New Prairie 41; 5. Indianapolis Pike 40.
Penn advances to the IHSGW State Championship on Friday, Jan. 12, at Lawrence North High School in Indianapolis.
Penn results:
1. Jaden Johnson (88)
3. Eryn Benak (106)
8. Madalyn Whitehead (113)
3. Anjali Pant (126)
4. Olivia Nixon (132)
6. Kamryn Pollock (138)
5. Emily Spitaels (138)
3. Grace Selis (138)
5. Ashley Benak (145)
4. Autumn Hale (145)
3. Emma Ringer (145)
1. Madison Burke (152)
2. Amanda Feder (160)
1. Aiesha Helepa (170)
6. Sadie Kunze (182)
4. Katie Selis (195)
1. Andelisia Henry (220)
1. Mikayla Ringer (285)