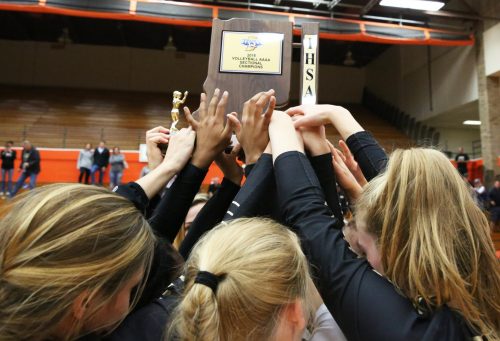 It's a blockbuster week for Penn High School Athletic Teams as the Kingsmen seek a Regional Championship in Volleyball, and Semi-state Championships in Volleyball and Boys and Girls Cross Country. There's also the Freshmen version of the #BackyardBrawl this week.
The Penn Varsity Football Team has a bye this week in the Class 6-A State Tournament. Action starts on Friday, Nov. 1, when the Kingsmen host Portage. Kickoff is set for 7:30 p.m. ET
TUESDAY, OCT. 22, 2019
Penn's Freshmen Football Team kicks off the exciting week with their version of the #BackyardBrawl. The Kingsmen play at Mishawaka on Tuesday, Oct. 22. Kickoff is set for 6 p.m.
SATURDAY, OCT. 26, 2019
Volleyball continues its quest for blue rings in the LaPorte Regional. Penn plays the host Slicers at 11 a.m. ET. The Penn-LaPorte winner plays the Munster-Crown Point winner at LaPorte at 7:30 p.m. ET.
Penn's Boys & Girls Cross Country Teams compete at the Fort Wayne Semi-state on the campus of Purdue-Fort Wayne. The first race starts at 1 p.m. At stake are berths for the State Championships.
The Regional Champion Penn Girls Soccer Team battles Noblesville at the Kokomo Semi-state for a chance to reach the State Championship Game. The game is scheduled to start at 3 p.m.