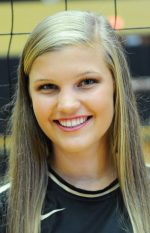 By GRANT AITKEN
The Hickey sisters — Kaitlyn, Rachel and Ally — have made amazing contributions to the Penn Volleyball program. Over the past seven years since Coach Sarah Hendricks took over the program, all three sisters have gone through the program. Hendricks has watched these girls grow on and off the court.
"When I first took over the program seven years ago, I was lucky enough to coach Kaitlyn Hickey for her senior year," Hendricks said. "I now have both Rachel and Ally Hickey on the team.  There are some things you just can't teach, like athleticism and court smarts — two qualities that the Hickey girls all possess.
"These girls have grown up on the court watching and playing volleyball," Hendricks said. "They all have such a great volleyball IQ and can play any position that you put them in. They are able to anticipate the next play and put the ball where the other team isn't.
"They are also highly competitive, which as a coach I love," Hendricks continued. "I have been very lucky to be able to coach all three girls and work with their parents.  They come from a big family that is unbelievably supportive of their children and Penn Volleyball."
Kaitlyn Hickey was all-Summit Conference four times for IUPUI. She was nominated for the NCAA Woman of the Year Award in 2016.
Rachel, who is closing in on Penn's all-time digs record, is now following in Kaitlyn's footsteps and will play at IUPUI.
"When choosing what college to commit to, distance was a major factor," Rachel Hickey said. "I chose IUPUI, because it's only three hours away. Now my family and friends are able to come watch me play. On top of that, I now get to follow in my sister, Kaitlyn's, footsteps and play four years at IUPUI".
In her senior season at Penn, Rachel Hickey has helped lead Penn to a Top 5 ranking in Indiana.
"Playing all four years on varsity has definitely boosted my confidence on the court," Rachel Hickey said. "I've learned to be a vocal leader and have gotten comfortable playing at such a high level. On top of that, I have met my best friends through volleyball, Julia Beers and Sophia Cruz.
"This being my last year at Penn, I hope we can win state! We are such a close team this year and have a ton of chemistry. Being undefeated in NIC right now is a great accomplishment and I hope the winning streak continues!!"
Rachel Hickey said that volleyball means a lot to her family.
"We grew up playing volleyball and hope to never stop," Rachel Hickey said. "Both of my parents are highly involved in volleyball by coaching and all of us girls have been playing since we could remember."