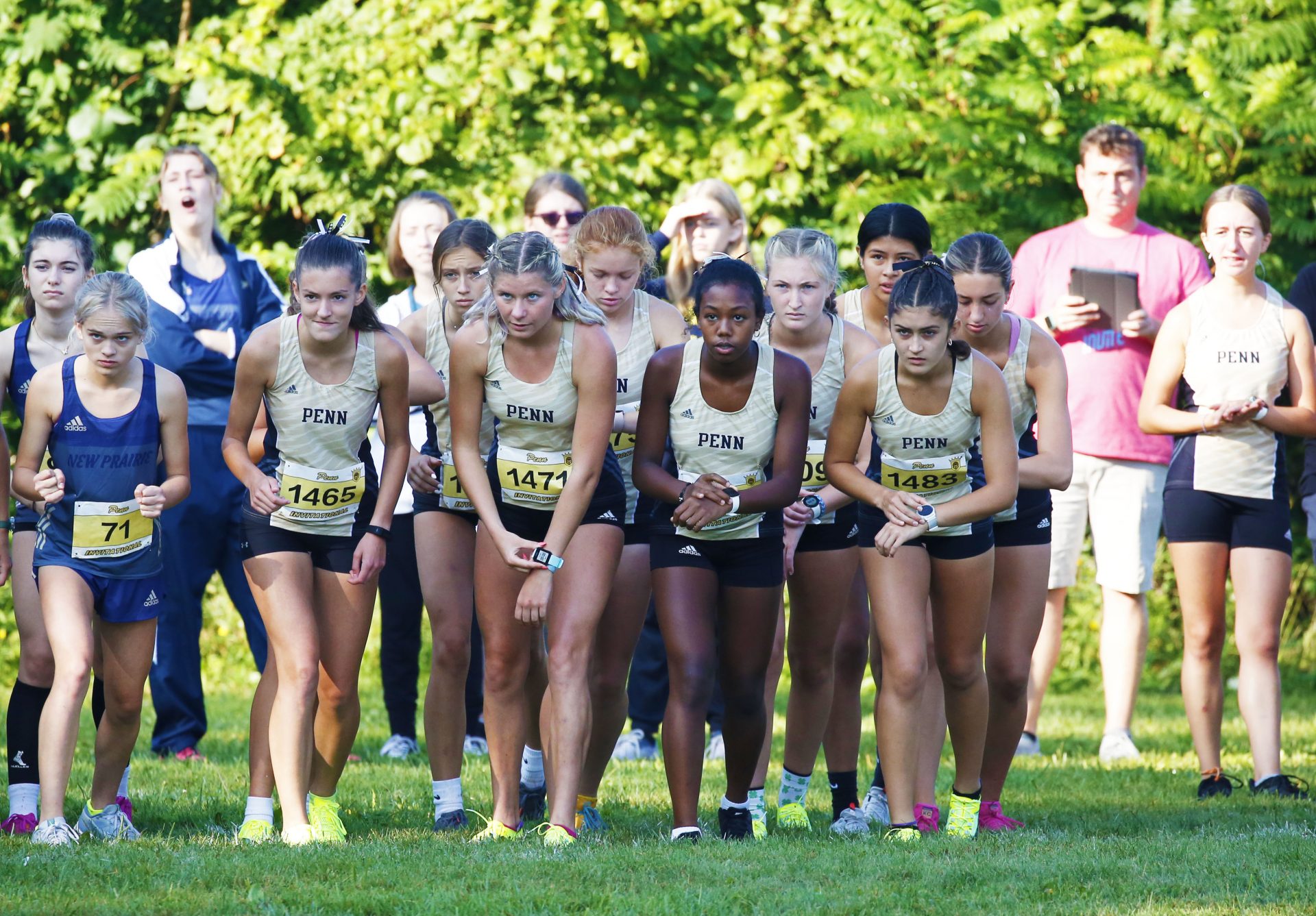 The Penn Girls Cross Country team has an extremely bright future as three freshmen runners ran their best time of the season in the varsity race this past weekend at the Marian Invitational. 
Those three runners, Ari Balinnang, Gaby Smith, and Belle Rebolloso make up the class of 2026. 
So far, here are their best times of the season: 
Ari Balinnang – 20:17 – Marion Invitational. (3rd for Penn.)
Belle Rebolloso – 20:24 – Marion Invitational. (5th for Penn.)
Gabby Smith – 20:48 -Marion Invitational. (8th for Penn.)
Penn was ranked as the ninth-best team in the preseason ranking. The Lady Kingsmen flew past their competition in their first two meets with both JV and Varsity winning their races. 
They finished third at the Marion Invitational only falling to state powerhouses, 5th ranked Homestead and 8th ranked North Central. 
With one of the best young teams in the state, here is what our three elite freshmen have to say about this team: 
Q: Penn Girls cross country is ranked very highly in Indiana. Where do you see this team going come October? 
Ari: "I think that Coach Clements being a very good coach and helping us with what we need will help us go far. With his leadership and the drive of the girls, they know what they want. They are going to go out there and get it."
Belle: "Our team is really strong all the way around. We have a very strong varsity team, as well as a strong JV Team. I think that the competitive nature of our team will help us for the postseason and will allow us to make some noise at State this year."
Gabby: "I think our team has a lot of potential. I think we're doing really great things here. Come October, I see us finishing in the low 20s or higher at the state meet."
Being freshmen can be quite nerve-racking, however, Ari, Belle, and Gabby all saw familiar faces that helped them transition into high school…
Q: Being a freshman can be overwhelming, who on the team do you look up to? What about them makes you follow their example?
Ari: "I really appreciate Mary Eubank's enthusiasm because every time we have a workout or race, she is always there trying to keep the team pumped and excited. Kaylie was the first upperclassman I met on the team. She's always been energetic and a good person to be around. 
Belle: "The person that stuck out to me the most was Kaylie Hanyzewski. She talked to me on the first day of cross country. I could tell from our first conversation that she would be a good role model. Kaylie is my friend, however, I view her as a sister that will always be there for me. Someone that can help push me through the bad and good days on the track."
Gabby: "I look up to Kaylie Hanyzewski. She's such a great role model, she is always doing the right thing. She makes sure that everyone feels welcome and that this is a safe place for them to have and unwind."
Not only do they have astounding teammates, but they have two of the best coaches in Indiana. These coaches, Coach Clements and Coach Starkweather bring not only vast amounts of knowledge but a spark of enjoyment to the program. 
 Q: Out of your coaching staff, who is the most "fun" coach and why?
Ari: "Oh Jeez. Both of them make us laugh, they are always joking with the team. I really can't pick one. Both Coach Clements and Starkweather are awesome coaches and we are really lucky to have them."
Belle: "Oh, that's a hard one. Coach Clements brings a joke every week, while Coach Starkweather brings the games. So, it's kind of a dynamic duo between the two."
Gabby: "Phew, that's a tricky question. I definitely think Coach Starkweather is more of a fun and laid back coach, well,  partly because she's my English Teacher. Both coaches are amazing, but Coach Starkweather is more laid back, something I definitely appreciate. 
While they have had excellent mentors to learn from, they have found comfort at Penn and now look forward to what the future holds:
Q; You are just starting high school. Do you have any goals for the next four year years? If so, what are they?
Ari: "There are a lot of time barriers that I would like to break. I want to try and keep up with Mary and make the tournament team each year. I primarily want to focus on becoming the best athlete that I can personally be.
Belle: "I would like to participate in a musical at Penn and would also like to do cross country all four years. At the moment, those are my only two goals, but I'm sure more will come as I progress through high school."
Gabby: "Throughout the next four years, I want to get good grades and be a good person. I want to make everyone feel welcome and I want to be a good role model for others."
Q: Where do you see yourself going after the next four years? Do you plan to run in college? 
Ari: "You know it's definitely a possibility. I could see myself running in the future, it's something that I do enjoy, but I do want to focus on going to medical school and becoming a doctor."
Belle: "It is a dream to run in college, however, I feel it's too far-fetched. If the opportunity comes, of course, I'll take it, however, we'll see how it goes."
Gabby: "Uhm, I don't think I'm planning to run in college. I'm definitely planning to run the next four years of high school. But, by the time I think I get to college, I think I'll be too busy and that it will be too much for me to be on an athletic team and be a student at a university."
With only one graduating senior this year on the varsity team, the future is exceptionally bright for our Lady Kingsmen. This team has one of the best potential future cross country teams in the state, only time will tell what astounding things they will accomplish.