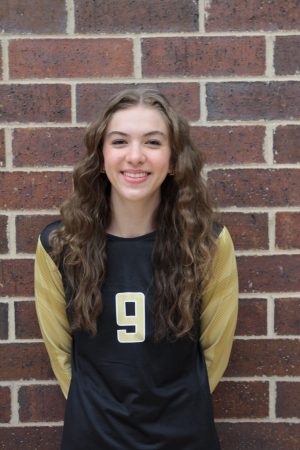 Athlete name: Sarah Noto
Sports: Volleyball
Graduation year:  2025
Position: Right side/OPP
Height: 5-11
Combine results: Bench 75 pounds; Front Squat- 140 pounds; Power clean- 115 pounds; Broad jump- 73.5 inches; Vertical jump- 24.8 inches.
Honors/accomplishments (athletic and academic): ATHLETIC- IHSVCA players to watch list, AVAC PHENOM 2023, Top 5 kills of the week (3x), MVP (Aug. 26), Player of the Match (MaxPreps), 
Academics: Principal's Honor Roll
Extra-Curricular activities/Service projects: Penn Dream Commission Society, Kingsmen Against Cancer, Science National Honor Society, Freshmen Mentor, Clay Church Food Pantry volunteer, Clay Church Children's Ministry Leader
Head coach/email:  khickey@phm.k12.in.us
Coaches Quote: "Sarah is a competitive athlete who is eager to perfect her skill. She asks very high-IQ questions where you can tell she has a good idea of what going on in the game. She is a strong right side attacker who can also swing out of the middle when given the opportunity." – Head Coach Kaitlyn Hickey. 
Highlight video links: