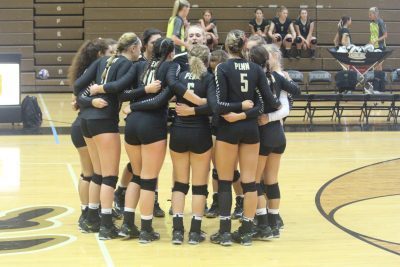 Penn High School's volleyball team will start state tournament action at 7 p.m. on Tuesday, Oct. 18, against Elkhart Central in the first round of the Class 4-A Warsaw Sectional.
Coach Sarah Hendricks' Kingsmen own a 31-2 record and captured the Northern Indiana Conference championship with a perfect 12-0 record. The Kingsmen are ranked No. 5.
Penn beat Elkhart Central in a hard-fought battle in NIC action, 25-22, 26-24, 25-20. The Blue Blazers are 22-4.
Penn has won 13 sectional championships, the last coming in 2014. The Kingsmen won state championships in 2011 and 2012.
Last week, the Kingsmen tuned up for the state tournament by closing out its perfect NIC schedule with a victory against a series of state powers. Penn beat Warsan, knocked off New Prairie on Senior Night, and then beat No. 8 Lawrence North to win the prestigious Tom Heck Invitational.
Hendricks praised the leadership of Penn's seniors, Jenn Heritz and Maddy Wiseman.
"For four years, these kids have both been great kids, no matter what they've been through," Hendricks said of Heritz and Wiseman. "Jenn has been a hard worker since the day she walked through the door. Maddy paid her dues. She sat the bench for almost a season and she still worked her butt off. She had a goal and pushed through it, and now, she's starting and leading our team.
"Both of these kids have such a special place in my heart," Hendricks continued. "I love them both, dearly. There are no words to describe the bonds that I think the three of us have. It's really special and the relationship that we have built, especially over the last year, the trust I have in them that they will take care of everything. They are two great kids who come from two great families. You can tell why they are great kids, because they have great parents. I can count on their parents for anything at the drop of a hat."
Hendricks said that senior leadership will be critical for the youthful Kingsmen in the state tournament.
"Senior leadership is everything," Hendricks said. "Who better to have our younger players to look up to than our two seniors. They work hard in the classroom, they work hard on the court, they work hard every day in practice.
"They're constantly thinking of their teammates and the coaches," Hendricks said. "On senior night, they decorated my office, because they wanted to do something for me. They are so selfless. That says so much to me about them, that on their special night, they wanted to do something special for me. They are two special kids. You can tell, based on what they've done, our younger players are following them, and that's why they are such a special group."