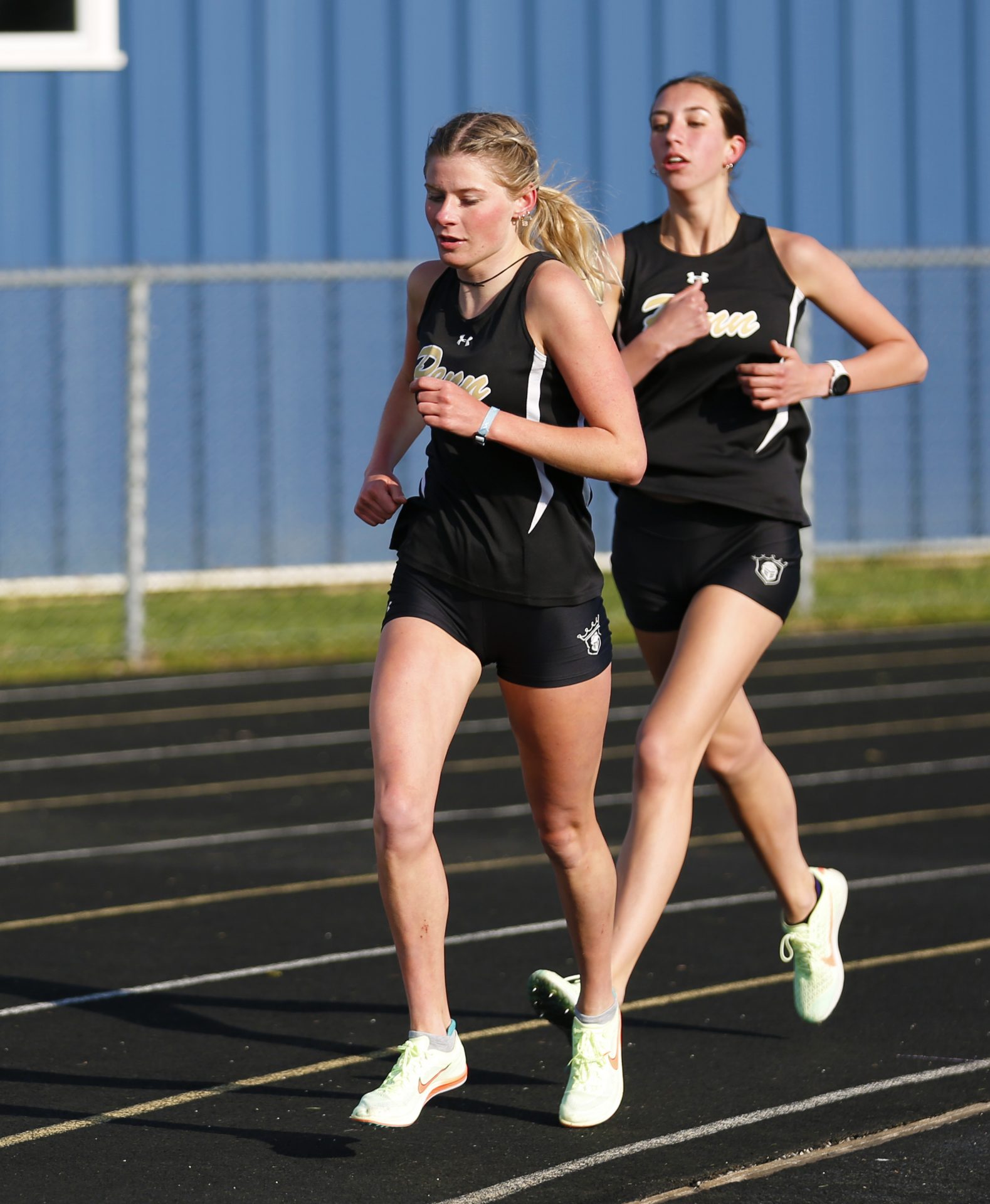 Several Lady Kingsmen Shine During Hoosier State Relays Finals
The Lady Kingsmen traveled down to Bloomington Indiana on March 25 to compete in the Hoosier State Relays (HSR) Finals. 
Competing in Gladstein Fieldhouse, the home of the Indiana Hoosiers, the Lady Kingsmen finished in 23rd as a team, tacking up seven total points.
Qualifying for the meet were five individuals including Mary Eubank (Jr.), Ellie Stabnik (Jr.), Jill Pletcher (Jr.), Sofia Ugwoke (So.), and  Ella Bailey (So.). 
Traveling with the individual qualifiers were three relay teams that included the 4x400m Relay, 4x800m Relay, and the Distance Medley Relay (DMR.)
Sprinter Ugwoke finished 24th in the preliminary round with a finishing time of 8.14 seconds for the Girl's 60m Race.
Long jumper Bailey leaped herself to a 19th place finish with a 15-foot and seven and quarter inch jump (4.76m).
Pole vaulter Pletcher flung herself to an 11th-place finish with a 10-foot and six-inch pole vault height. 
Distance runners Eubank and Stabnik both competed in the 3200m race. Stabnik finished in 21st place with a time of 11:47. Eubank placed sixth in the 3200M, earning three of the team's total points for the meet. Eubank crossed the line at 10:55, establishing a new personal best for the Junior.
After Eubank ran the race, she had some comments regarding her race and personal best time.
"With two laps left, I started to kick and I was able to pass three runners that way. I saw the stop clock tick past 10:47, which is the current school record. It always hurts to see a time you want to run slip away, but when I saw my own time a few seconds later I couldn't stay disappointed. I beat my outdoor PR on an indoor track with hardly any sleep and I finished sixth in the state so I left the track ecstatic," Eubank said.
The Lady Kingsmen's 4x400m relay team consisting of Macey Gableman (Fr.), Bailey,  Julia Economou (Jr.), and Reese Armour (So.) ran a season-best of 4:13 notching them 18th place.
The Lady Kingsmen's 4x800m relay team consisting of Abby Stevens (Sr.), Morgan Collins (Sr.), Ari Balinnang (Fr.), and Kaylie Hanzewski (Jr.) ran a time of 10:29, finishing 21st.
The DMR of the Lady Kingsmen included Eubank, Economou, Aubrey Morgan (So.), and Janine Mbianda (So.). They finished with a time of 12:51, securing them a seventh-place finish and nabbing them four points toward the team score. 
Morgan made sure she shouted and spoke about the DMR, where all runners had run faster in their respective legs than earlier before in the season.
"We all had time improvements in the relay from earlier in the season. It was overall a fun race, but it was even more rewarding to see how our hard work has paid off. I think that with the few months of training we have left before state, this race experience will help prepare us all for time improvements," Morgan said. 
As the season gets underway, the Lady Kingsmen look to improve upon their performances before they come back to Bloomington in June for the IHSAA State Finals.
Boy's Track and Field Runner Oliver Dvorak had some kind words when talking about the Girl's Team and their State Title hopes.
"It's always fun to see them compete. The HSR Finals didn't end in the result that the girls wanted, but they are a hard-working team. Similarly to the boy's team, both track and field programs have talented athletes and I can see them putting people on notice when June comes around," Dvorak remarked.
For a chance to see the Lady Kingsmen, Penn will be hosting their annual Lady Kingsmen Invitational at Freed Field, on Saturday, Apr. 22.