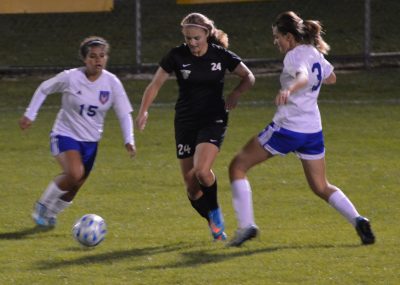 By MASON PLUMMER
Penn Girls Soccer star striker Kristina Lynch, who led the Kingsmen to two state champions (and the 2017 National Championship) has been named United Soccer Coaches National Player of the Year.
Lynch, a Florida State recruit, has already been named a First-Team All-American by USA Today, as well as the Gatorade Indiana Player of the Year and the Northern Indiana Conference Most Valuable Player.
"It is hard to put into words how proud and excited I am for Kristina," Penn Girls Soccer Head Coach Jeff Hart said. "All of us associated with the Penn program have gotten a front-row view to her greatness on the field."
"She was an elite talent when she arrived as a freshman and now she leaves our program as its all-time leading scorer, a two-time state champion, a high school national champion, a two-time All-American, and now as National Player of the Year. And, her best years are ahead of her at Florida State."
Lynch racked up an impressive 44 goals and 19 assists for Penn in their state-title winning season with just 24 appearances for the Lady Kingsmen. That averages out to 1.8 goals and 0.8 assists per game.
Lynch is also ranked on MaxPreps as the No. 1 overall player in the nation.