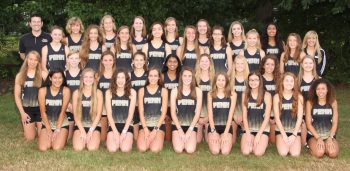 Penn's Girls Cross Country Team started off the year with a great showing at the NIC Stomp invitational. The Junior-Senior Kingsmen Team placed second, and the Freshmen-Sophomore Team placed first.
With 14 teams in attendance, Penn's Freshman/Sophomore squad came home with the team championship and placed eight girls in the top 15, led by Sophomore Riley Keppler, who was 3rd overall in a time of 20:47.4.  Not far behind were Sophomore Brooke Neal in 4th, Sophomore Aislynn Alkire in 6th, and Freshman Haley Makowski in 8th.
Not to be out-done in the Junior/Senior race, the Lady Kingsmen placed 2nd to a highly competitive Chesterton team.  They placed three in the top 10 with Senior Lauren Frank 2nd overall in 19:40.6.  Senior Dani Spring and Junior Ellie Jankowski were also hot on the trail finishing 5th & 9th respectively.
"When I combine the two races, I see the makings of a very formidable team that is ready to make the next entry in a distinguished history of Lady Kingsmen Cross Country teams," Penn Cross Country coach Michael Clements said.