Girls Wrestling: Penn seeks fifth straight state crown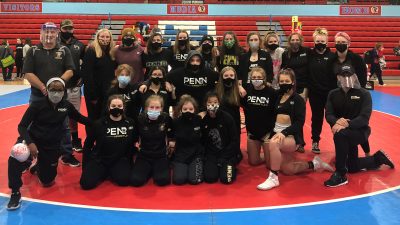 Four-time defending Girls Wresting State Champion Penn is on the Drive for Five heading into the State Championships on Friday, Jan. 15.
The State Championships will be held at Hamilton Heights. There are only two spectators per wrestler. Weigh-ins are at 3 p.m. and wrestling begins at 4 p.m. Information will be available on trackwrestling.com.
Penn returns one individual State Champion from last season. Sophomore Mackenzie Konanz (160) will be seeking a second state title. Konanz and Heidi Selis (126) led Penn's effort at last week's Regional Championships. The Kingsmen won their fifth consecutive Regional crown as a team.
Six wrestlers qualified for the State Championships at the Regionals: Heidi Selis (1st), Grace Selis (2nd), Clarissa Robles (4th), Mackenzie Konanz (1st), Madison Hazeltine (2nd), and Morgan Mendilkowski (5th).
"We have four girls who placed top two at regionals and have the ability to take it to the next level next week," Penn Girls Wrestling Coach Matt Selis said. "Two other girls who need to place as high as possible. Penn High School has a target on its back for winning four in a row. If everyone wrestles to their potential we can win a fifth!
"Every person who qualified has a job to do, if we are going to win state it will be a team effort, not just based on individual Champions," Selis said. "We have great senior leaders in Grace Selis, and defending state champion, sophomore Mackenzie Konanz! We had a strong underclassmen performance where freshmen Heidi Selis won  regionals and second-year wrestler, sophomore Madison Hazeltine, was runner-up!"