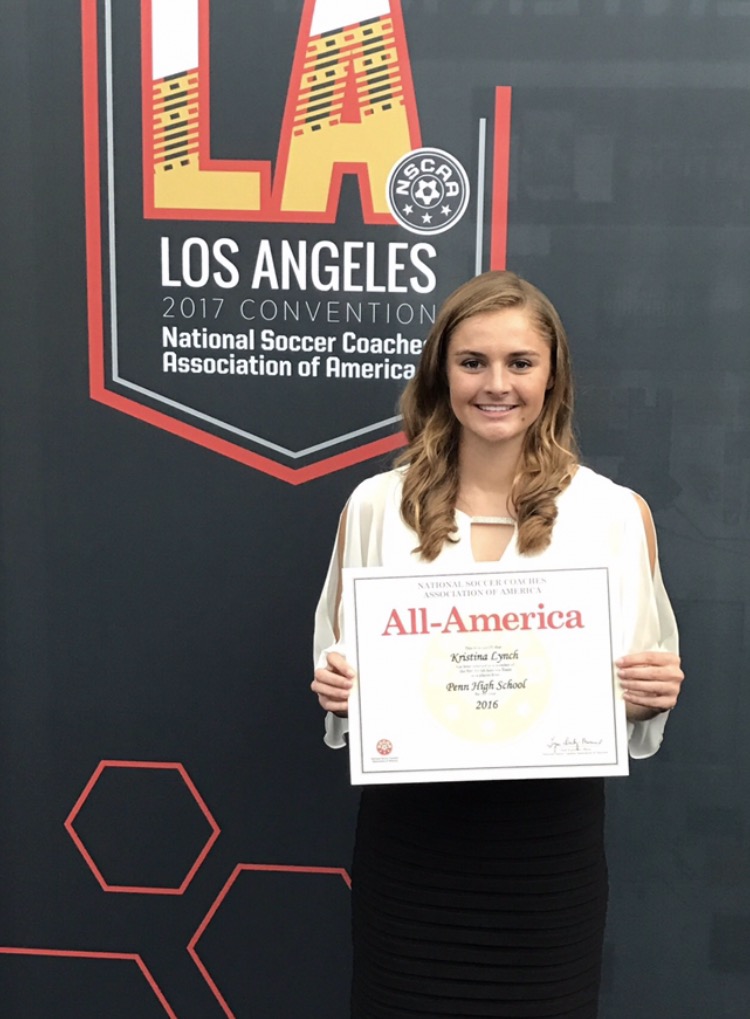 By MASON PLUMMER
Pennant Reporter
After a spectacular season in leading Penn High School's Kingsmen to a state championship in Girls Soccer, Kristina Lynch has been named first team to the 2016 All-America team by the National Soccer Coaches Association of America. The Penn Junior attended the All-American Luncheon in Los Angeles in January.
Lynch, a Florida State recruit,  established numerous records this past season. She set the all-time scoring record for Penn Girls Soccer with 86 goals, and scored 38 this season. She also broke the record for assists this year with an astounding 26. Lynch holds the records for career goals and assists in just her third year of playing for Penn Girls Soccer.
When asked about receiving All-American honors, Lynch said "It was an honor to represent Penn High School and the State of Indiana at the All American Luncheon in Los Angeles, California. Having the opportunity to be among some of the nation's best youth, high school, and college athletes was truly a unique and memorable experience. I am extremely thankful for my coaches who challenge me and believe in me, and my teammates who constantly encourage and push me to do my best both on and off the field."
Of course, it would not be possible for Lynch to complete these amazing feats without a great coach, and she has that in Penn Girls Soccer head coach Jeff Hart.
Hart guided the Kingsmen to the state title this year with the help of his star striker, Lynch.
"Kristina is the first Penn Girls Soccer player to be selected as an all-American and it is a well-deserved honor," Hart said. "She is a game-changing forward, one that has an ability to score at any time and the vision and unselfishness to be deadly as a passer.
"Through her junior year she holds all program scoring records – goals in a season (38) and career (86) as well as assists in a season (26) and career (49). She combines elite speed and athleticism with an elite work ethic so she will continue to improve all parts of her game. As a captain, she leads by example and is always willing to show up early or stay late to help a teammate improve their game. We are fortunate to have her for one more year."