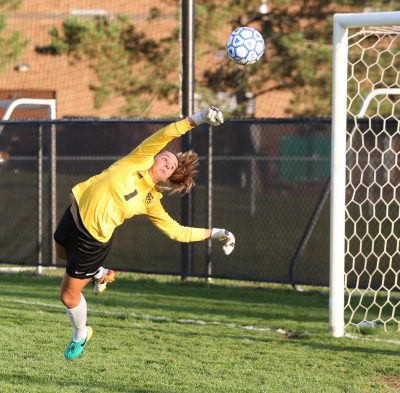 Goalie Mackenzie Wood wore Penn High School's Gold and Black colors in leading the Kingsmen Girls Soccer Team to State and National Championships this Fall.
Now, Wood will  wear the Red, White and Blue colors of the USA.
Wood is one of 24 players called up to the United States Under-18 Women's National Soccer Team. The U.S. Team will have a training camp at the Elite Athlete Training Center in Chula Vista, Calif, from Nov. 26 to Dec. 3. 
"It means a great deal to me to represent Penn High School in the U18 WNT Soccer Training Camp," Wood said. "To be called up to the WNT is an honor and has always been a goal of mine as I strive to make the roster on a regular basis. Penn High School has prepared me personally and athletically and I feel ready for the challenge."
Wood, a USA Today First-Team All-American led the state with her 0.213 goals against average and had 20 shutouts this season. She is a Northwestern University commit, and has been invited to play in the Girls Soccer All-American Game in Orlando, Fla., in December.
Wood made two amazing saves in the 2-0 victory against Guerin Catholic in the State Championship Game. She said she appreciates her development through Penn Soccer.
"Penn soccer has allowed me to make life-long friendships and learn how to be a leader," Wood said. "As a goalkeeper, I need to be able to communicate and organize my defense. Being the captain of the Penn Girls soccer team has helped me improve my communication and leadership skills I will need for college soccer."
Penn Head Coach Jeff Hart believes Wood will be a difference-maker for the U.S. Team and Northwestern.
"'Z' is another top-end athlete that has all the tools the great goalies have – leadership, presence, great hands and movement (feel) for the position, outstanding foot skills, quickness and a fearless attitude," Hart said.