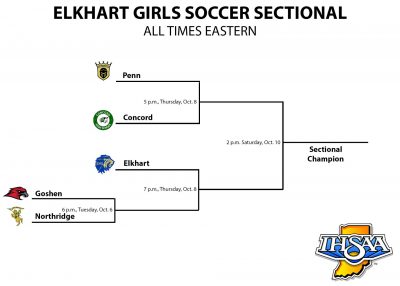 Penn Girls Soccer will open 2020 State Tournament action against Concord at 5 p.m. on Thursday, Oct. 8, at Elkhart High School West Campus (former Elkhart Memorial High School).
Northridge plays Goshen in a first-round game on Tuesday, Oct. 6, at 6 p.m. The winner of this game will advance to take on Elkhart on Thursday, Oct. 8, at 7 p.m.
The winners of the Penn-Concord game and the Northridge/Goshen-Elkhart game will play in the Sectional Championship game at Elkhart scheduled for Saturday, Oct. 10, at 2 p.m.
Penn Girls Soccer has 18 Sectional titles overall. Penn's streak of 13 consecutive Sectional Championships is the longest active streak in the state.
Top 10 All-Time Sectional Championships 23: Center Grove. 19: East Central, Evansville Memorial, Homestead, Lake Central, South Bend St. Joseph, Valparaiso, 18: Penn. 17: Indianapolis Cathedral. 16: Carmel.
Tickets are $6 per game. There are no tournament passes available in 2020. Tickets can be purchased in advance online or at gate entry (cash only).