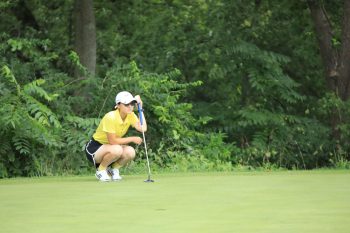 Lyvia Li has been a huge part of the Girls Penn golf team since she began during her Freshman year.
She is a four-time Northern Indiana Conference first-team selection, and was named the MVP of the conference in 2019.
Li has been playing golf for about seven years and was encouraged by a family friend to start.
As one of Penn's leaders, she has helped the Penn Girls go to state three times. She went to state as an individual last season, meaning this season's trip to state will be her fourth appearance in the state finals.
Li has posted incredible scores in many post season events including last year's sectional, regional and state competitions. She shot 73 in sectionals last year and shot 72 in regionals. This year she shot 70 in the NIC Conference Tournament.
Li said that she doesn't just play for herself, she plays for the rest of the team.
"The part I like most is being able to share the same goals and successes as my teammates," Li said.
Li attributes her success this year to a few factors saying: "My short game used to be very strong compared to ball striking, but I've gotten longer and more accurate my driver this year. My wedges have gotten more accurate as well."
Although Li could play Division I golf, she will be concentrating on academics in college. She has already been accepted to Columbia of the Ivy League for engineering, and has a number of other outstanding academic opportunities at the next level.