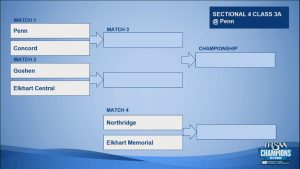 Penn Girls Soccer will open 2019 State Tournament action with an opening-round Sectional Game against Concord at 5 p.m. on Tuesday, Oct. 8, at Penn High School.
The Penn-Concord match is followed by Goshen vs. Elkhart Central on Tuesday, Oct. 8.
Semifinal action is slated for Thursday, Oct. 10. The Penn-Concord winner plays the Goshen-Elkhart Central winner at 5 p.m., followed by a match between Northridge vs. Elkhart Memorial.
The Penn Sectional Championship Game is scheduled for 7 p.m., Saturday, Oct. 12.
A single-game ticket costs $6, and an all-tourney pass is $10.
The Penn Sectional Champion advances to South Bend Adams Regional on Saturday, Oct. 19, to play the Hobart Sectional Champion. The East Chicago Central Sectional Champion plays the South Bend Riley Sectional Champion in the second regional game. The Regional Championship game is also on Saturday, Oct. 19.