Girls Basketball: Sectional schedule changed again due to weather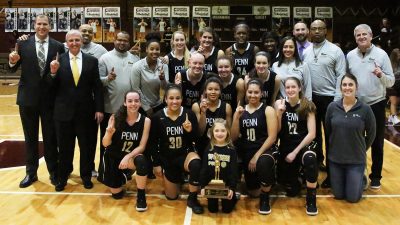 Due to adverse weather hitting the area, the Mishawaka High School Athletic Department announced that the Girls Basketball Sectional hosted by Mishawaka has again had to change times and dates for the tournament.
Games originally scheduled for Tuesday (Jan. 29, 2019) and Wednesday (Jan. 30, 2019), including Penn's first-round match against Clay, will now be part of a tripleheader on Friday (Feb. 1, 2019) at Mishawaka.
Penn (21-0) is scheduled to play South Bend Clay (6-16) at 8 p.m. in the third game on Friday (Feb. 1, 2019). Host Mishawaka (7-16) will now play South Bend Riley (5-16) at 5 p.m. on Friday (Feb. 1, 2019). South Bend St. Joseph (15-7) plays South Bend Adams (5-16) at 6:30 p.m. in the second game on Friday Feb. 1, 2019).
Semifinal action has been moved to Saturday, Feb. 2. LaPorte (15-7) plays the Mishawaka-Riley winner at 6:30 p.m., and Friday's winners will play at 8 p.m.
Championship action has been set for 7 p.m. on Monday, Feb. 4.