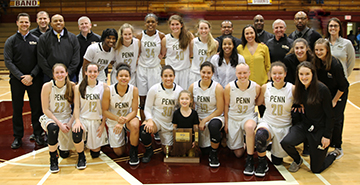 Unbeaten Penn unleashed a balanced attack and bolted to a 55-33 victory against LaPorte to capture the Mishawaka Sectional Championship in high school girls basketball action on Monday, Feb. 4, 2019.
Penn captured its second consecutive Girls Basketball Sectional Championship and its 19th in Program history.
Coach Kristi Ulrich's Kingsmen (24-0) advance to the LaPorte Regional. Penn takes on Plymouth (20-4) at 11 a.m. on Saturday, Feb. 9, in the Regional opener. Crown Point (26-0) plays Kankakee Valley (20-4) in the second game. The winners advance to the LaPorte Regional Championship Game at 8 p.m. on Saturday, Feb. 9. LaPorte's season ends at 16-8.
Trinity Clinton led Penn with 12 points to lead the Kingsmen.
Jordyn Smith and Reganne Pate scored nine points each.
Grace Adams and Jayda Smith scored seven points each.
Antreese Shelton scored six points.