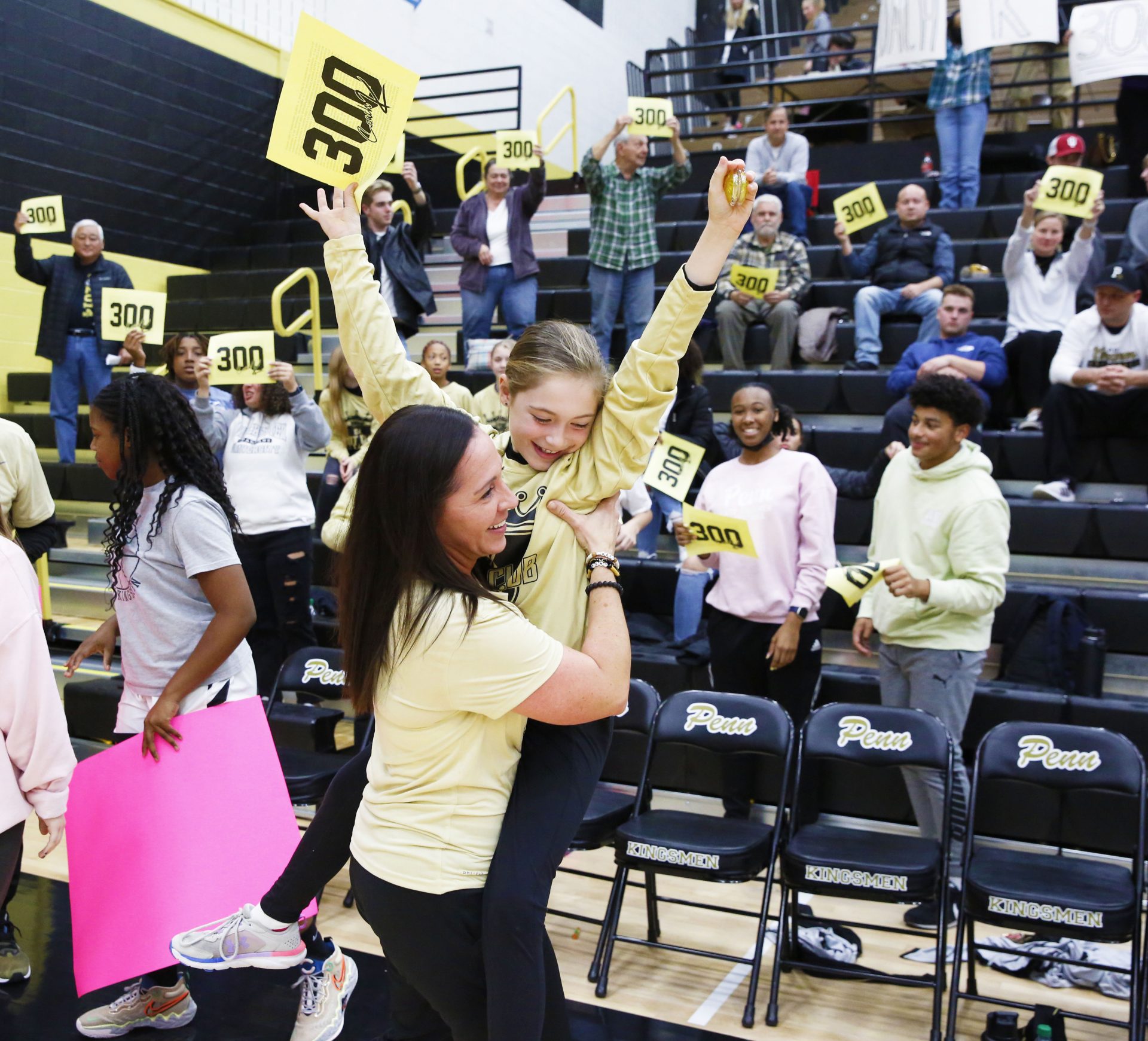 By ANNA SACHIRE
Penn High School Girls Basketball Coach Kristi Ulrich will be the head coach of the 2023 Indiana All-Star Team. She will coach the state's best in the annual two-game series against Kentucky, one on June 9 in Owensboro, Ky. and the other on June 10 at Gainbridge Fieldhouse.
"I'm extremely excited for the opportunity to represent Penn High School, our community, and the state of Indiana," said Ulrich about the recognition. "I am honored and humbled that my peers and the individuals associated with the All-Star committee think I would be a great fit to coach this team."
Tickets for the game at Owensboro are $12 and $10 each for the All-Stars against Kentucky at the Owensboro Sportscenter. The girls start at 6:30 p.m. EDT, and the boys follow about 8:30 p.m. EDT.
Tickets for the game at Indianapolis are priced at $100, $75, $50, $35, $25, $20 and $10 at Gainbridge Fieldhouse. The Futures Games doubleheader has the girls at noon and the boys at 2 p.m. The Senior All-Star doubleheader has the girls at 5 p.m. and the boys about 7:30 p.m.
In her 14 seasons as coach of Penn, Coach Ulrich, more frequently referred to by her players as Coach K, has made herself a force to be reckoned with in Indiana girls' basketball with an overall record of 312 wins and only 50 losses as well as a winning percentage of .862, the highest in the state. 
Since taking over, Coach K has led the Lady Kingsmen to 11 Northern Indiana Conference championships, ten sectional championships, six regional championships, three semi-state championships, and the program's first state championship in 2016. She has also coached 29 collegiate basketball players and five Indiana all-stars. 
This past season, Coach K led the Lady Kingsmen to a 16-7 record and third-place conference finish before falling to the Northridge Raiders 52-59 in the sectional tournament. She was also able to celebrate her 300th win on November 22 in a 41-38 victory over Warsaw, something that very few are able to accomplish throughout their whole careers.
Coach K graduated from Mishawaka High School in 1999 and went on to play collegiate basketball at Bethel College. After winning two Christian College national championships with the Pilots in 2000 and 2003, she went back to her high school alma mater and served as the assistant coach at Mishawaka for four seasons. She then joined the Penn coaching staff as an assistant for two years and officially became the head coach of the Lady Kingsmen in 2009. 
She claims that her biggest motivation to becoming a coach was her high school basketball coach at Mishawaka, Mike Breske. She said, "(He) continuously (invested) in me, (he) believed in me, and (he) would bend over backwards for me."
Ulrich stated that Breske would also challenge and push her to become the best player she could possibly be. This coaching style is one that she says she tries to replicate for her own team. "Just how much he was able to pour into me I want to be able to do the same thing for my own players," she said. 
And she has done just that. Along with her multitude of championships, Coach K has also left an incredible effect on all of her players that have gone through the Penn program. 
Sophomore player London Jackson said, "Coach K has made an impact on how I play my game every time I step on the court and how hard I continuously push myself, even through adversity." 
This is the same mindset she will take with her in the month of June when she coaches the state's top talent. "I want the group of All-Stars to represent Indiana with pride and understand what this opportunity means to them," says Coach K. "These young women have cemented themselves in the history of Indiana Basketball. Having the approach to play hard and compete, play together, and play selflessly will allow this team to have a tremendous amount of success not only on the court, but in the game of life as well."