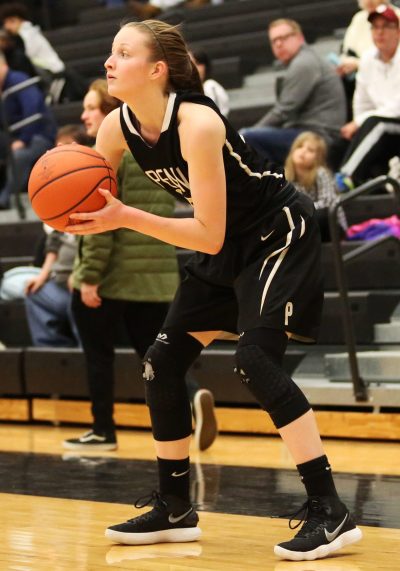 By ANA KRUGGEL
Reganne Pate, a member of the Penn Girls Basketball team, began playing basketball at a young age, all thanks to her older sister Kailey Pate.
Now, Pate is a sharpshooter for the Kingsmen, who have a 20-1 record helped by Pate's scoring from 3-point range. She averages 6.1 points a game and is second on the team with 36 three-pointers heading into the regular-season finale against Mishawaka
Pate would go to all of her sister's games and enjoyed shooting and dribbling around while waiting for her sister's long practices to be over.
Pate is mostly recognized for her ability to shoot 3-point shots, but it does not just come natural to her. She is always working to improve her skills and practices shooting daily.
"Shooting is repetition and confidence, which comes from practicing everyday," Pate said.
As for the Kingsmen basketball team, Pate said, " We have had a good season so far. The seniors have had amazing leadership and we hope to make a deep run in the state tournament this year."
Pate loves playing Kingsmen Basketball.
"Playing for Penn has taught everyone that hard work will get you very far in life," Pate said. "It has also taught us managing time, because it is important skill we are forced to use with the busy schedule that we have."