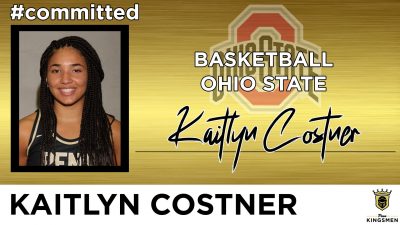 Kaitlyn Costner, who played a key role in the Penn Girls Basketball Team's run to the Semi-state last season, has committed to play Women's Basketball at Ohio State.
Costner, a 5-foot-6 guard, averaged 12.8 points a game as a Junior at Penn. She also scored 20 points in a varsity debut in a 65-42 vs Northridge.
Costner chose Ohio State primarily because she fell in love with the coaching staff and the facility. She stated that their Physical Training program also caught her eye.
Playing basketball at Penn has helped prepare Costner for the challenge of competing in the Big Ten.
"Penn basketball has helped me prepare for the Big Ten because practices are so competitive," Costner said. "We go at it everyday and challenge each other. Practices get very intense." 
Penn Girls Basketball coach Kristi Ulrich is very excited to see where Costner takes the rest of her career after finishing the 2020-2021 season as a senior.
"Kaitlyn will succeed at Ohio State because of her work ethic," Ulrich said. "She is just a flat out work horse from top to bottom. She is competitive, athletic, and explosive. She can score in a variety of ways and lock you up on D.
"Kaitlyn is also a great teammate," Ulrich said. "She is unselfish, encouraging, and a positive role model for those around her."