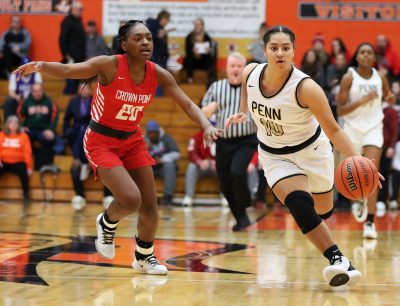 An ACL tear is a terrible injury that can set someone way back. The usual recovery time can take as long as nine months, which is a very long time for an athlete who is itching to get back to the action.
Jordyn Smith, a captain on the Penn Girls Basketball Team, felt a shift in her knee and immediately fell during an elite camp while playing one-on-one. She tore her ACL in August right before the start of school and right before the start of her pre-season. This was obviously devastating for her, but she did not waste any time as she scheduled the surgery as soon as possible, which was the first day of school.
Smith hated the thought of missing the entire 2019-2020 season, so she had to work hard to get back as fast as she could. This entailed driving two hours to physical therapy in Fort Wayne two-to-three times a week, where she could get sports-specific therapy that could get her back in possibly only five months.
This caused Smith to miss a lot of school, so catching up on school work was always a difficult task throughout the whole recovery period. That was another hardship on top of how mentally tough it would be to do intense physical therapy every day, especially when you're tired, sore, or when it's painful. Smith explained her motivation was that goal of getting back in five months. When she felt like skipping her therapy, she would convince herself that her recovery would take longer if she did.
Smith said the first couple weeks were the most painful, when she had to work on completely straightening and then completely bending her leg. She also did her exercises twice a day at home. After two weeks, when she didn't need her crutches anymore, she would walk whenever she could.
This led to the next stage, where she had to gain back all the strength she had lost in her quad and hamstring. This was the longest stage. As she would do her strengthening workouts, specialists did a lot of blood-flow restriction therapy in which an inflated cuff on the thigh cuts off partial blood flow to the leg to help gain back muscle faster.
After that, the next stage was running, jumping and cutting. This was difficult, because Smith didn't want to favor her good leg while doing these exercises in fear that her knee wasn't strong enough yet. Then she could play basketball with no contact, and finally, she passed the test that allowed her to play with contact after 5 months, so she began practicing and scrimmaging with the team.
Although tearing your ACL takes a big physical toll on you, it is the mental toll that can be the toughest part.
"The biggest challenge for me would be sitting on the sidelines during games and practices," Smith said. "I remember my first practice I went to after my surgery, I had to just walk around the school for a while because I simply didn't feel ready to see what I was missing out on. It was hard for me to just observe and not play the game I love and have been practicing and playing since I was a kid. Mentally, I had to keep supporting and cheering on my teammates even when sometimes it felt hard to watch."
Smith said she learned to be a more vocal leader as she sat next to the coaches during the games and offered her insights when she saw something, while also doing her best to encourage her teammates. She said she just wanted to show her teammates that even though she wasn't playing she was still there to cheer them on.
If Smith reached her goal and got back within five months she would get back to the season before the post-season started. That is exactly what she did. She made it back for the last game of the regular season.
"My first game back was against Mishawaka, which had only won one game that season, so it was a good transition into playing," Smith recalled. "At first, I was very timid and shied away from contact. Once I started getting into the game I stopped thinking about my knee and just played."
Smith helped the Kingsmen win Sectional and Regional Championships – including knocking off heavily-favored Crown Point in the Regional. Penn reached the Final Fall, falling to 2019 state champion Northwestern in a tough fight.
Now, several months after her return, Smith feels that she is back to 100 percent and that the injury has no physical effect on her anymore, although it has interferred with her recruitment process. She lost interest from a few colleges, and in every phone call they ask about her knee.
Smith hopes to prove herself this upcoming season. She feels that the Kingsmen have the most talented team she has been part of in her four years wearing Black-and-Gold. She thinks they are a state-caliber team and so she says they have to prepare like one, even through the pandemic. The team is having weekly zoom meetings with the captains on the team where they discuss topics like leadership and accountability. This is especially important with COVID-19 backing up their start.
According to Smith, the biggest goal this season is to win state.
"We have to work together as a team and work hard and play selflessly," Smith said of what it will take to win state. "Our team theme for the season is "no excuses," and we must remember and follow that as we continue on in the season."
Smith has shown great courage and determination through all the adversity she has faced. She shows you that if you stay strong and work hard you can overcome the most difficult challenges.