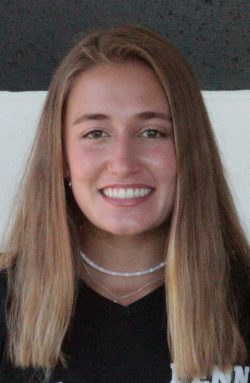 Ragan Redding is a Senior on the Penn Girls Soccer Team.
Are you enjoying your senior season?: Yes. 
Has COVID-19 affected you or your teammates mindset?: I don't think COVID-19 has affected our mindsets. I think we might get tired sometimes because our schedule is packed into like two months, but it helps push us.
How much has COVID-19 changed how Penn soccer is being ran?: COVID-19 has created more rules obviously to help keep each child safe or as safe as we can be. We have to wear mask anytime we aren't playing and the coaches have to wear mask. I think the largest difference is that JV and Varsity had to be separated this year in the beginning and the grades were separated in the beginning, which stops the seniors from meeting the freshmen.
What would you say is the biggest impact from COVID-19 for the team and yourself?: The biggest impact from COVID-19 on the team and myself is probably how it has pushed us closer and made everyone realize how important or not important the sport is to them. For example if you usually go out with large groups, we now had to ask ourselves, "How will going to this function impact myself, my family, and my team mates?" If you go to a large function and you happen to get COIVD, you most likely will end up shutting your team down, so it makes you decide what is important in your life.
Do you think you guys will make it deep in the playoffs?: I think we have a very good chance to make it past sectionals, regionals, and so on, if we play our best game and play as a team. 
Are you looking to play college soccer?: I would play college soccer depending on the level of academics, but right now I am not planning on playing in college. 
What position do you play/ have played in your soccer career?: I have played everywhere in my whole soccer career, however, I play forward for Penn and outside back for travel soccer. 
What is the Penn Soccer goal of the 2020 soccer season?: Our goal is to play our best and always face the best teams we can, in hopes to push us and challenge us. We would love to get as far as we can by playing our best game and playing as a team. 
Who are soccer players you look up to?: I look up to Alex Morgan on the Olympic USA team, as well as others on the World Cup team. I look up to my past coaches that have played soccer. One of my favorite coaches specifically is named Duma and he worked his way onto a soccer team and came to America from Zimbabwe.