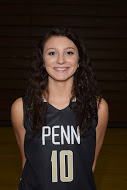 Name: Kaitlyn Marenyi.
Class: Senior.
Position: Point Guard.
Uniform Number: 10.
Favorite Fire-up Music: Eminem.
Favorite Pig-Out Food: Brownies.
Ritual/ Superstition: Wearing my lucky sports bra, painting my nails same color, and I eat pizza the day before a game.
Favorite PGBB Memory: This year, beating Homestead in Semi-State.
What I love about this team: We're best friends off the court.
College or Pro player I admire: Yogi Ferrell.
Best advice I've received: "When she comes out to guard you 33 feet from the basket, slapping the floor and doing all that Duke crap, you smile, head fake her and take it to the basket every time" – Mr. Carlton (coach).