Getting to know: Camryn Buhr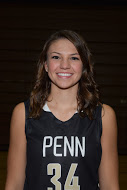 Name: Camryn Buhr.
Class: 12.
Position: G/F.
Uniform Number: 34.
Favorite Fire-Up Music: "Yeah", by Usher.
Favorite Pig-Out Food: Chinese Food.
Ritual/ Superstition: Blue Nails = Blue Rings.
Favorite PGBB Memory: Dog piling after beating Homestead.
What I Love About This Team: How close we all are.
College or Pro Player I Admire: Zach Auguste.
Best Advice I've Received: "Step on their throats, and bury them" – Rich Carlton.