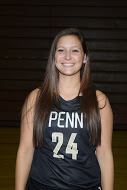 Name: Delaney Jarrett.
Class: 2016.
Uniform Number: 24.
Favorite Fire-Up Music: 21 Pilots.
Favorite Pig-Out Food: Salt and Vinegar Chips.
Ritual/Superstition: 2 Pairs of Socks.
Favorite PGBB Memory: Riding in a cop car with coach K.
What I Love About This Team: We are all BFF's.
College or Pro Player I Admire: Steph Curry.
Best Advice I've Received: Maybe it will rain now, but no storm lasts forever.