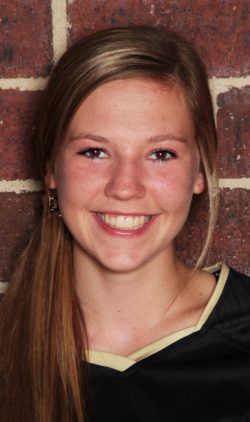 Cadence is a sophomore at Penn High School and focuses on her favorite sport, volleyball. She was a great softball player before tapering down to a one sport. Cadence now is the starting libero for Penn's Varsity volleyball team, and is producing great numbers.
What does it feel like to be the only one wearing a grey jersey on the court? It's a lot of pressure, but you have to be a leader on the court.
What kinds of music do you listen to before games? In the locker room we mostly listen to hip hop and rap, but if I had to choose I would pick "oldies".
How do you prepare for a game at the beginning of the week? I mostly watch film and get plenty of sleep.
What do you do to brush off a mistake? I know mistakes are going to happen and I go after the next one.
Was it a big switch up to change from a setter to libero? It was a lot of work, but I soon started to love libero.
Where do you see volleyball affecting you in the future? It's hard to tell right now, but whatever is put ahead of me I will take that opportunity.
How big of a priority is volleyball in your life? Volleyball is life besides school. School comes first.
When did you start to have a passion for volleyball? Fifth grade while I was at Corpus Christi.
Are you confident about making a potential state run this year? Yes, hard work pays off in the end. It would be a once in a life time experience to win a state championship.
Who are your biggest supporters? My biggest supporters are obviously my family and grandparents. They boost my confidence levels a ton.