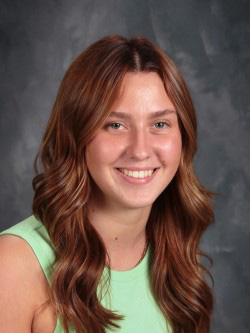 Name: Avery Woods 
Sport: Swimming
Instagram handle: avery_w00ds
What is the most important lesson you've learned through athletics?: An important lesson I've learned is you have to put in the work if you want to see big results.
What are your pre-meet rituals?: My pre-meet rituals include eating some protein, listening to music, and keeping my body warmed up.
Who is a swimmer you look up to, and why?: I look up to Bethany Galat because not only is she a hard worker she also has good character.
What do you love about representing Penn High School?: What I love most about representing Penn High School is being a part of a team that represents good morals.
What traits do you love in a team leader?: Traits I love in a leader are kind, enthusiastic, hard-working, and someone who keeps the team on the same page.
What advice would you give a freshmen about Penn Athletics?: My advice would be not to be afraid of the upperclassmen!!!!
What is your favorite sports movie, and why?: My favorite sports movie is "Soul Surfer" because even though her sport caused her to go through a traumatic event, she still continued doing it after she healed.
What is your favorite pig-out food?: My favorite pig-out food is donuts.
What do you love about your sport?: What I love about my sport is there's always room for improvement. There's never a level to max out at. 
If you could have lunch with any living person, who would it be, and what would you talk about?: I would have lunch with Lana Del Rey because she is very successful and wise.