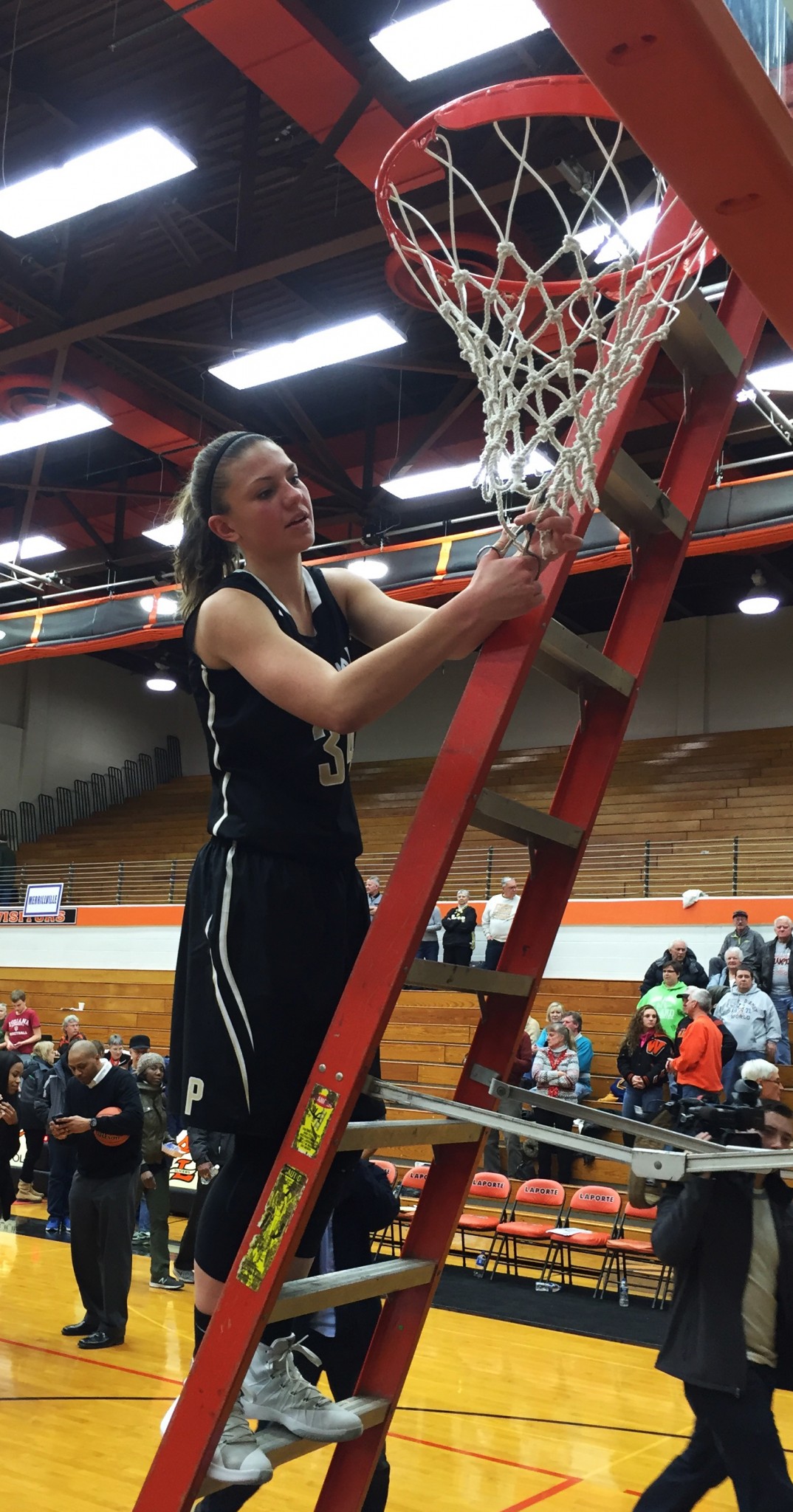 Camryn Buhr, who helped the Penn High School girls basketball team capture the Class 4-A state championship, has been named to the Indiana All-Star team.
Buhr, a 6-foot-1 wing, is the sixth Indiana All-Star in Penn girls basketball history.
Buhr's sister, Caroline Buhr, was an Indiana All-Star in 2014. Other Kingsmen representatives on the Indiana All-Star team include Jessica Reiter (2000), Lily Svete (2009), Alex Morton (2012) and Taylor Lutz (2013).
The Indiana All-Stars take on the Kentucky All-Stars June 11 at Bankers Life Fieldhouse in Indianapolis, and June 12 at Bellarmine University in Louisville, Ky.
Buhr led Penn to a stunning 68-48 victory against No. 1-ranked and defending state champion Columbus North in last month's state championship game. The Lehigh commit scored 24 points, going 8-of-12 field-goal shooting and 7-of-7 free-throw shooting in the title game.
"I'm really excited about having this opportunity," Buhr said of being named to the Indiana All-Star team. "I look at it as a great honor to be able to represent Penn High School.  I think this means a lot to the program at Penn High School. It helps put us on the map and lets the rest of the state know that we can play basketball up here, too.
"It's very meaningful, since my sister was also an Indiana All-Star. We've talked about this, and she's been helpful as far as telling me what to expect.
Buhr is second in Kingsmen girls basketball history in scoring with 1,418 points. She is the all-time rebounder in Penn history (702), and is sixth in career assists (210), second in career steals (242) and fourth in career blocks (53). Buhr averaged 19.5 points and 7.2 rebounds her senior season.
"It is a great honor for Camryn Buhr to be selected as a member to the Indiana All-Star Team," Penn head coach Kristi Ulrich Kaniewski said. "There is no question that she is one of the best players in the entire state and one of the best to ever put on a Lady Kingsmen uniform.
"The word special definitely comes to mind when thinking of Cam and her abilities on the court," Kaniewski Ulrich said. "We are so very proud of Cam and all that she achieved and how she has represented the Penn Lady Kingsmen Basketball Program for the past four years."