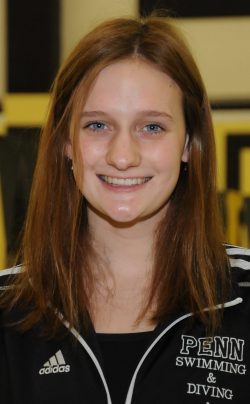 Senior Alyssa Messenger will be continuing her academic and athletic careers at Ball State University.
"I chose Ball State because of the coaching staff and environment, Messenger said. "The campus and team felt like a home right away and their program is up-and-coming. I knew that I could be very successful there." 
Messenger specializes in the 100-yard backstroke (56.41) and the 200-yard backstroke (2:00.87). She was a Scholastic All-American, All-Northern Indiana Conference in 100 back all three years, and represented Penn at state starting with her freshman year. 
"The Penn swim program has helped prepare for collegiate swimming by helping balance swim and school," Messenger said. 
Senior teammate Madi Bottorff said that Messenger has a "…positive mental attitude that helps both herself and her teammates continue to thrive."