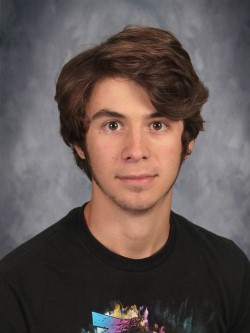 Patrick 'Patty' Lautaru was the starting goalie for the Penn Boys Lacrosse team this past season. He had a great year, leading the defense and the team to a 12-5 season. He won defensive MVP for the 2023 season. Lautaru was also named Player of the Game in the first TV broadcasted game ever in the Michiana area (WHME 46). He is headed to Western Michigan University to further his academics and also play Lacrosse.

When asked what his favorite memory was for his senior season, Lautaru said "Going coast to coast and almost scoring." For non-lacrosse players and fans, this is a very rare thing for goalies to almost score, and he barely missed.

Lautaru accepted the challenge of leadership.
"As a goalie I think it was my job to lead the team overall, on and off the field," Lautaru said.

Lautaru is looking forward to continuing to play Lacrosse at the collegiate level.
"You just have to have fun with sports. No matter if you are winning or losing, use the games you played to work on getting better."

Patty Lautaru was a great player for Penn Lacrosse and a great person overall. He will be missed at Penn.