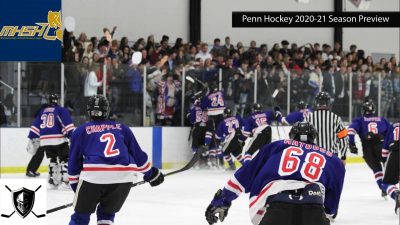 Last season, Penn Hockey placed first in the City regular season, but lost to St. Joe in the City post-season tournament semi-final. But this year is a new year and full of new hope as the Penn Hockey roster is looking stronger than ever, with eight seniors leading the team this year. There should be no excuse for a bad season.
The firepower on the Penn Kingsmen bench is the best it's been in years.
"I think everyone has gotten better defensively, which was an issue last year, we also have gotten much better offensively, too," Kingsmen player Trey Thompson said.
Jake Renbarger, one of Penn's leading scorers last season, is eager to see experience help the Kingsmen make strides in the state tournament.
"I think that the biggest difference in skill from last year's team and this year's team would be that last year we had a lot of underclassmen who made a big impact and that now are older and more experienced and are now ready to make a bigger impact on our team," Renbarger said.
Penn is stronger, faster and older than they were last year.  Penn hockey has had many ups and downs in the years past but this year is lining up to be a good year for the boys.
Experience in coaching is also an asset for the Kingsmen. Hockey is a game of strategy more than anything. This is why the Penn Hockey's head coach is the right man for the job. Craig Brown played his hockey days as the starting goalie for Western Michigan. This means that he knows the game inside and out. His experience is beyond most people who play hockey.
The big challenge for the Penn hockey team will be playing as a team. The Kingsmen might have a good roster, but it is another thing when you can all play as a team that it is the key to win games.
Some of the big competition that the boys will be facing this year is St. Joe, Valparaiso and the Blades.
The goal for the boys this year will be to win state and the city championships. This is not out of the realm of possibility.
Penn has the good players to meet the mark: they have the skill they have the muscle and they have the coach. This year is going to be a good year for the boys.