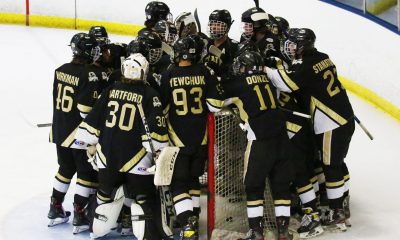 By TREVOR HULL
The Penn Kingsmen Hockey Team hits the ice in September with practices.
Here is a pre-season outlook as the Kingsmen start their journey to hopefully hoisting a Championship Trophy.
Light the Lamp
Last season one of the biggest downfalls to the Penn hockey team was not scoring enough. The first couple games of the season were looking promising until sophomore Joel Cocquyt was ruled out with an injury. Joel started off the MHSHL season with an overtime goal against LSJ. Having him back is going to be great for the team. Some other key players looking to make a big impact this season are Junior Brooks Clark and Senior Drew Laware.
2. Return solid goaltending
Last year Penn goaltending was very good, and kept the Kingsmen in most of the games they played. Penn will have to make up for the graduation of Lucas Cocquyt. Junior Noah Langness and Sophomore Bennett Hartford are the other two goaltenders that helped out the Kingsmen last season. Goaltending will definitely help the Kingsmen out this upcoming season. Hopefully the junior-sophomore combo can come together and have a great season. 
3. Goals for the season
This season the Penn hockey team is looking to bounce back after a challenging 2022-2023 season. Penn claimed Back-to-Back City Championships, but last season the Kingsmen fell short in the city to LSJ and the state playoffs to Bishop Noll, the main goal is to not let that happen again. Junior leader Brooks Clark stated, "One of my main goals is to win another City championship. That has been one of the main highlights of my career." These goals won't be easy but they are very achievable. Hopefully the Kingsmen can rally together and become state and city champions again.