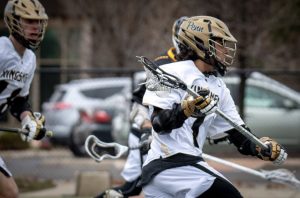 Penn Boys Lacrosse is working to start the 2023 season off strong. This comes after the team struggled in the previous years.
Senior Ken Njihia comments on the past season saying that they did well, but it was definitely viewed as an off season.
"We won games that seemed like we wouldn't and lost games that we shouldn't have. So overall, okay," Njihia said.
Player Andrew Carles agreed, "We won a fair number of games. I'm confident that this year is shaping up to be a very strong team."
Njihia says he is confident in not only his senior class, but the underclassmen as well. 
"We have a group of talented sophomores coming back and high energy freshmen too this year, I know they will do great," Njihia said.
Fellow Senior Brock Oldick agrees, "The team chemistry is actually in a really good place already, but we'll have to work some more on integrating in the freshman to the team."
The Boys Lacrosse team starts practicing the last week of February.